Tracking extra income and savings has been a "thing" for me since 2014. Recently it's become a bit harder. Why?
Nothing has really changed, but I think my head isn't in the game in the way it used to be; at least not when it comes to writing everything down. We both still seek out those lovely lovely bargains, but the truth is we're actually having a lot of fun with the results of those bargains, and tracking savings gets put to the side.
Still, I'm going to keep on with the tracking, because it shows how much you can help your finances by doing just a little here and there, and you never know – someone out there might just need that bit of inspiration to start from scratch.
Affiliate links denoted by *
What have we managed to save and make in December, 2019?
To recap, we made £272.96 in November, which was bumped up significantly by a Tesco gift card we earned through TopCashback. Pretty good, right?
In December, we made £155.38. Here's what that was made up of:
Curve cash
I used £26.80 of Curve cash – Curve's rewards points – to pay for things in December. No point in hoarding points, is there? It's great to see abstract points get put to good use in real life.
Bank account interest
In December our current account interest total was £9.51. Is saving worth it? Of course it is! Over the years I've moaned a bit about how our interest has gone down, but that's just the way things go. Current account offers will come and go, but making the best of what's on offer will always be an easy way to get a little something back without much effort.
Referrals
Once again we received £100 from Nationwide for referring a friend. As we're still happy Nationwide customers it's good to know you're being rewarded for recommending something you trust. Have a look at my refer a friend schemes post here.
Cashback
Our cashback this month has come from Shopmium* as usual, but also from the annual payout from a cashback credit card.
Here's the breakdown:
Nationwide credit card – £6.31
Shopmium* – £12.72
So that's £19.03 back overall. If you think cashback isn't worth it for the effort, then at least consider using a cashback credit card – it really is a passive way to get some of your money back, no extra effort required.
Dividends
Woop woop – 4p!
And to think I was sarcastic about November's dividend haul. That's all from Freetrade, which did deliver me two free shares in December from someone else using my referral code.
That's all for 2019!
Whether you're big into saving or not, you have to admit that you can give your finances a boost by putting in a little bit (really, even just a little bit) of effort. We really have taken our feet off the accelerator, but we can still get the benefit of our savings habits, and so can you!
Don't forget to read about some more low-effort money-making activities in this post, if you're in need of your own savings inspiration.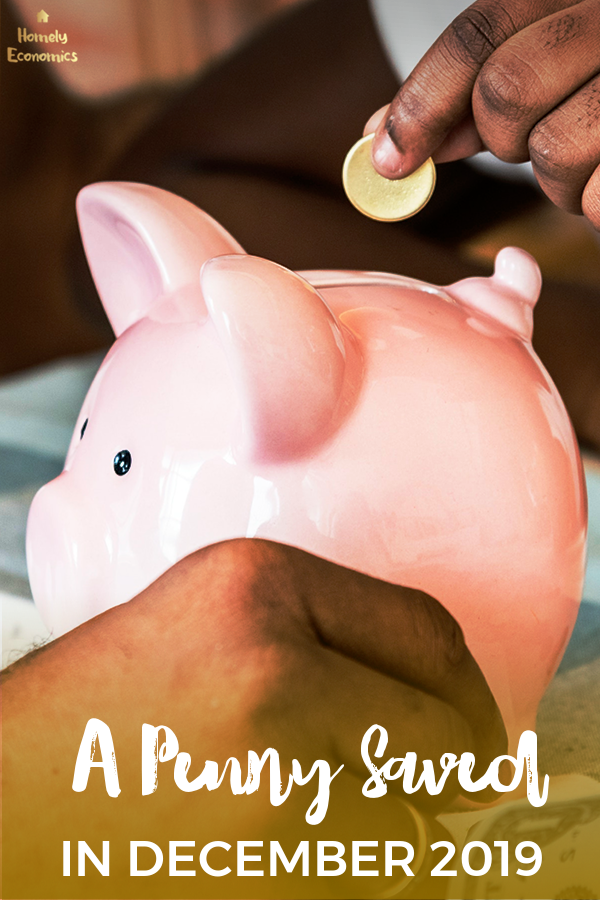 As always, you can check out what we did the month before, and see how we did for the whole of 2018.