Extra Income Report – March 2017
March was strange – I constantly had the feeling that I wasn't getting anywhere despite working frantically, but every time I stopped and thought about it, I realised I actually did accomplish quite a lot. And then the feeling started all over again! Thankfully I remembered my new "notebook of success" and started to jot things down.
Surprise surprise, I covered more pages than I had in any other month, so maybe I need to stop beating myself up and start recording my "wins" every day!
Anyway, you're here for the cash.
 Read on for details of our extra income!
Interest – £20.77

Online Earnings – £9

Cashback – £113.58

Coupons -£5.17
Blog – £31.38
Refunds – £13.47
Competitions – £5
Total: £198.37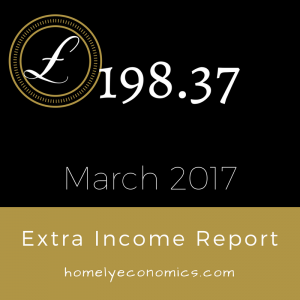 Rules for calculating extra income.
What goes in? Cashback, interest, bonuses, competition wins, discounts earned through loyalty points, voucher codes or special activity, found money (substantial amounts), gifts, tax refunds that would otherwise be unclaimed, earnings from online or offline sales, as well as earnings from surveys, apps and freelance writing work.
What doesn't go in? Our salaries, regular sale refunds (as in buying something and then returning it), discounts on items in store or online that are available to all, general estimates of what we could have spent but didn't – as in, reducing a bill and calculating what the difference would be.
 Here's our income in detail:
TSB credit card cashback – £3.55

TopCashback – £10.03.  This time, we got a 5% bonus top-up for choosing to have our payout via a Love2Shop gift card. Brilliant deal!
BT reward card – £100. I mentioned earlier in the month (in this post) that we got a good deal on our broadband switch, and part of that was a prepaid MasterCard from BT. Woop woop!
Interest
What a non-event. Since the base rate drop we've been creaking along with much lower earnings than ever before. Still, it's better than nowt, and next month will be better as my Nationwide regular saver matures.
Coupons
Strictly APG coupons again this month, but I'm pleased to have wombled a whopper – £3.16 in one go!
Competitions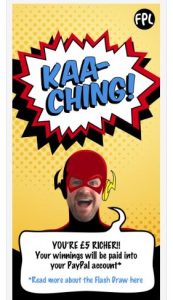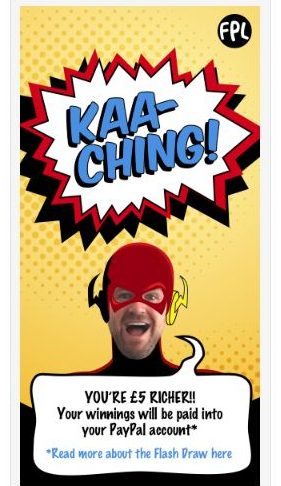 I still can't believe I won something at last! I won £5 in the Flash Draw on the Free Postcode Lottery, which, as I've mentioned before, is not a lottery or anything to do with gambling.If you haven't heard of FPL, the first thing to say is that despite the name, it isn't gambling in any way.
The site gives away cash prizes at random based on the postcode you register, and it generates money from ad revenue, so the more you visit to check for your postcode, the more they earn and the more they can give away. Personally I choose not to gamble, so sites like FPL funded by ad revenue are a great way to potentially win a surprise treat. I also don't get on well with comping so it's the only thing I'm likely to have a shot at winning!
Refunds
Goodbye TalkTalk! Yep, the refund came through from our switch – this is the kind of thing that you have to actively request when you switch away from an old provider, so bear that in mind.




Blog
Fanfare please! This month has seen my very first affiliate marketing payout. All of this month's earnings came from the Amazon affiliate program, all earned in January. So yes, there is money to be made through having your own blog! As for the likelihood of earning money, I wrote about in a recent post – worth reading first if you are interested in doing this.
This month's good (and not so good) things
I started handing over the reins for tracking our money to Lord Balders. This is a difficult thing when you've got 10 current accounts besides savings accounts! I stopped recording every expense every day, and it was weird at first, but I accepted it. But at the end of the month, I still had to go through all of our statements and add everything up to see what our total balance was, and that's a pain. I'm starting over again with my daily expense tracking – if you fancy giving it a go yourself, read this post to see how it could help you.
Switched gas and electricity from Ovo to EDF – it's a long story about why we've been on a prepayment meter for so long, despite knowing it to be the most expensive way to pay for energy. I finally arranged to get us onto a credit meter and got £50.50 cashback tracked through TopCashback.
We used up the last of our Primark gift card from Zeek.
Not so good…
Reading about frugal choices that have gone right is great, but you can also learn a thing or two about things that don't go well.
One thing we could have done better on was our shopping trip to B&Q at the beginning of the month. We bought tile adhesive and paint to carry on working on our bathroom, but I hadn't loaded money onto my Pockit card.
I could have used it to get 5% cashback but I had to fork out over £30 at the checkout knowing that I was missing out on an easy saving. I'm sure you can feel my pain!
So, over to you. What do you think of my March extra income? Let me know in the comments below!
If you enjoyed this post, please sign up to my newsletter here. Thank you!
I'm linking up with  Cass, Emma and Becky in this week's 'Five Fabulously Frugal things I've done this week' linky.