Five frugal things for the week –
It's been a VERY eventful week for me money-wise. Besides getting more money in, I've been able to find ways to lessen the money that's left us, whilst still having a bit of fun.
1.  Making a takeaway cheaper through cashback
Getting a takeaway isn't really frugal, but we all need some treats here and there, and as I'd been feeling pretty rough for most of Friday and Saturday we decided to have one of those rare takeaways to make life easier. On those occasions we always order through HungryHouse or Just Eat on TopCashback.
Plus, we keep some of the curry sauce for marinating the next day's meal… I can't be the only one who does that, can I?
2. Cheap notepad customisation (yet again)
My workplace must have been clearing out the stationery cupboard a few weeks ago as a ton of notepads, pens, pencils and every sort of stationery item you can think of appeared on top of a cabinet for the taking. As I always end up with lots of scribbled and folded notes, I took a plain-jane Lyreco flip pad and glued some scrap paper to the front.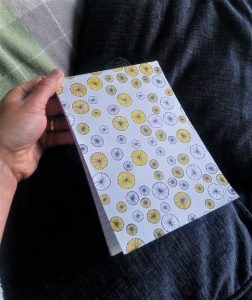 Then I added a bit of yellow marker to liven it up.
Now I can tell which notepad is mine and make sure it doesn't get nicked!
3. Wombling again, plus yellow sticker shopping.
I managed to get a few new Asda Price Guarantee coupons and used one that we'd had for a little while – It came to £2.55 off our last shop. Not gonna set the world alight but hovering over the reduced item section helps! Recently we've been shopping at Aldi more and more though, so the savings are more under-the-radar than before.
4. School uniform repairs.
Now, I am a real hardliner when it comes to making school uniforms last – Little Balders used to have the trousers he had started to grow out of cut off at the (fraying) knees and turned into shorts in the earlier days of primary school, but now at secondary that's out of the question and he's suddenly down to one pair of trousers as a result of all that darned growing. I hadn't even realised that it was the only one he could still fit!
I had to sew up a busted seam on this last pair by hand, and it made me think about how glad I am to have learned to sew at a very young age. That's not the only repair I've done recently though, as Little Balders' school shoes are looking pretty past it, but we just need them to limp on for a few more weeks (I actually glued them up back at the end of January!).
What did I do to them this time? Well, there were a few places where the micron-thin leather top had peeled off, revealing light grey patches, so I got an old mascara wand and coloured them in. No kidding.
5. Just plain old resisting!
Sometimes I think I just ignore the fact that we're in a frugal mindset that means we just resist the urge to buy the things we want. This week our washing machine broke, and although I really want a nice new one, our first thought was to fix it, and then to find a good second-hand one if possible. Then we had to go shopping for a new cat collar (£1.99 from B&M) and I saw a whole bagful of things I suddenly wanted – all washing-up related, if you can believe that!
Yes, I will confess to my weird love for dish drainers… even though I don't like washing up, I like the fantasy of supreme household organisation that I get from a swanky dish rack or washing up bowl. Don't judge me, it could be weirder.
Anyway, I only got the cat collar. Even though my first child maintenance arrears payment has finally reached me (I'm still in shock) that doesn't mean our habits will change – the money is meant to help with day-to-day living, but like all of our monetary resources, we plan to make the most of it, and that means making it stretch for as long as possible.
A bit anti-climactic perhaps, but it won't be funding any holidays or major shenanigans – just new school shoes and trousers to start with.
Over to you.
So those were my pick of the week's frugal things. How's your thrifty week been?
I'm linking up with Cass, Emma and Becky in this week's 'Five Fabulously Frugal things I've done this week linky.