I want to share this with you to encourage you if you're in the same situation as I am: fighting to get child maintenance when your ex refuses to pay and builds up years' worth of child support arrears.
I've just received £2072.63 in child support arrears.
It's taken ten years, but I've finally received a child maintenance payment!
I can't guarantee that by doing everything I've done that you'll be able to receive the payment you're due, but I know that hearing about a success story, no matter how small, can be helpful when you're feeling helpless.
Why has it taken so long to get any child support arrears?
I wrote about my story in this post called the Child Maintenance Saga. In short, my ex-husband spent many years coming up with a series of excuses for the CSA as to why he wasn't eligible to pay maintenance: in the end, he stuck with saying that he had a wealthy partner who supported him, and that he wasn't working.
Eventually, I gave up out of frustration as so many do.
He was openly working for his partner's firm, but I contented myself with the moral high ground, as the one who brought up her son on her own. Yet, this didn't satisfy my sense of justice, and it surely didn't help me financially; I've never earned much and knowing that my son had to do without just because of the CSA loopholes was an insult.
I did reopen my case in 2013 and faced the same brick wall, but this time, I kept going… and found weak spots in the wall, as he had been paying himself a nominal income as a managing director and diverting it back into his company.

How did I get this?
I started this process in late 2013.  The major development in my case came at an appeal at a tribunal in mid 2015. That's right – this payment  in 2017 is largely the result of things I did two years ago, for a case I started three and a half years ago.
At the end of 2015 I was told the case was moving to the enforcement team – I kept on hearing that for over a year. The system moves painfully slowly if you leave it alone, but I learned that if you do certain things to keep the heat up, it can move more quickly.
What specifically worked?
Who knows exactly – it could be any of these:
3 and a half years of pressure, with the last year being sustained and constant pressure;
the recent involvement of the CMS's Financial (or Fraud) Investigation Unit;
the threat of a liability order;
worrying about negative publicity for his business and public position should the press get wind;
or perhaps knowing that this amount is actually a bargain for him to get away with.
I may never know exactly.
What should you do to help collect your child maintenance arrears?
Call every week and request updates. I used to call only when I had to – now I make it a matter of routine to call each week. Making it a regular formality takes away a lot of the stress that inevitably comes from it.
Challenge decisions that are too low by requesting a variation, and if/when that is turned down as it usually is, appeal to a tribunal that actually has more powers. Insist on a financially qualified professional being present.
Keep good notes and records of calls, letters and any evidence of earnings you find.
You'll have to become your own private investigator in a lot of cases – read this post for tips on how to be your own PI.
If you have to go to a tribunal, remember that you are not the one being scrutinised; there's no need to be nervous. However, you have to do your preparation. (Read how to prepare for a tribunal.) Whether it's welcomed or not, I always write letters to judges ahead of any hearings laying out my argument and lines of evidence.
Write to your MP asking for help with your situation. Write to the Minister in charge of the CMS to ask for help with your situation. Write to the CMS and HMRC with new information. Write letters to everyone! (See this article for help with writing formal letters.) I cannot emphasise enough how important it is to get your MP involved – it is unfair that it has to be this way, but until the system is changed, that's what you have to do.
Waiting it out
Even after finding out that a payment had been made, I had to wait 5 working days for it to arrive. When it still wasn't paid after a week, I called to chase it up, and was told that it had been sent to me on that day and would take up to 5 working days to arrive.
Yes, a week from receiving a payment just to process it, and then a week to actually receive it. Patience is something you desperately need to cultivate when dealing with the Child Maintenance Service, even when things are going right.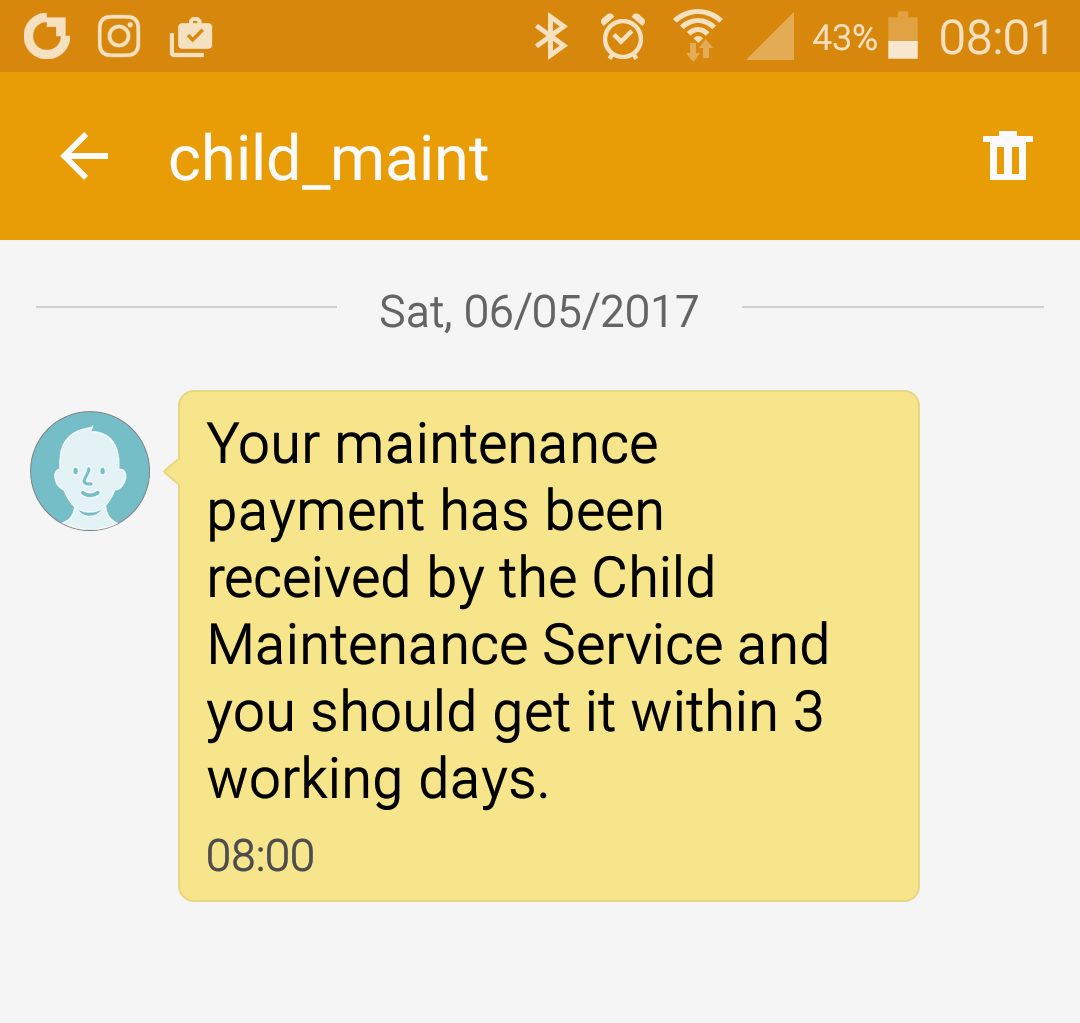 Advice from a pro
I was fortunate enough (as a direct result of writing about my child maintenance story on this blog) to be put in touch with a financial professional who has dealt with many CSA cases over the years. There wasn't much he could do for me beyond the point I'd already gotten to, but he gave me some advice for carrying on that I'll paraphrase for you.
The squeaky wheel gets the grease, so you have to squeak so loudly that fixing your problem is less of a hassle than ignoring you. Stop worrying about being the nice guy – you have to be a pain.
Advice from me
This journey is long, difficult and far from over for me. What helps is treating it like another job, not a personal failure.
I know that I have to call every week, and I'll jot down the notes and the name of the person I spoke to in my planner. I know that for a set period of time each week and no more, I'll do a bit of research to help my case. Doing it this way means that I experience less frustration. That doesn't mean no frustration at all, but a lot less.
Of course, I would love to guarantee you success, but I can't. I can't guarantee my own continued success, but there is no way I'm going to give up either!
The only way to guarantee that you won't succeed, however, is not to try at all.
What I will do is celebrate whatever successes I do have, whether it's finally getting some of the arrears we're owed or just getting through my weekly call without losing my temper.
Next step?
The next stage is the collection of over £1000 for which a liability order has already been granted, as well as the ongoing payments which are not being made (and assessed at only £6 per week). The threat of the liability order seemed to do the trick for the CSA arrears but the new CMS arrears are being ignored, strangely.
My ex-husband has folded his business and started another, but is claiming not to be working. If he claims to be working for his partner for free, this is diversion of income.
He's currently being investigated by the Financial Investigation Unit, so discrepancies like this won't be as easy to brush away (not if I have anything to do with it at least). There are several avenues open to me from here on, so I'm staying positive and I'll continue to update my story here.
Although this is an amazing development for my family, think of this – this amounts to less than £5 per week over the last 10 years. It's progress, but it's nothing compared to the true cost of raising a child; this decade of non-payment was financial abuse.
I'll be saving the money, earning interest on it and using it wisely, just like I use the rest of our income.