Five frugal things we've done this fortnight
:
It's been a tremendous couple of weeks for us. We're in our new house, and I can hardly believe it!
The move and the first week really knocked my routine, and we've all had to focus on sticking to the basics – work, school and slowly unpacking. At first, all I could think about was the work that lay ahead: rooms to clean, repair and redecorate, but now I'm seeing more and more of the potential, and I can't wait to get totally settled in and start some projects!
Here's what we've tried to make our first weeks in our new home more thrifty.
Tesco Clubcard points to the rescue
It's generally known that the best use for Tesco Clubcard points is to save them for days out and the like, or as I did last year, getting breakdown cover for a few pence… but in our first week we put some points towards a big food shop to help with the cash flow.
Free Coke Zero coupons
I'm not a fan of carbonated soft drinks – not since I was a teenager. However, Lord Balders is, and we found a few coupons for bottles of Coke Zero in his last purchase. That actually came in pretty handy for our first visitors having a look at our new home!
Toilet training for cats!
New house, new rules… I've been planning on toilet training our cats for ages now, but in the run-up to the move I just didn't see the point in getting them to that stage and then taking them to an unfamiliar place. Now that it's over, I just don't want to be a cat litter slave anymore, so I'm training all three of our furry beasts to use the human toilet.
So far, so good – this is a whole post in itself, but for now I'll just say that you can buy a ready-made kit like the Litter Kwitter or try a basic version with a bowl perched under the toilet seat.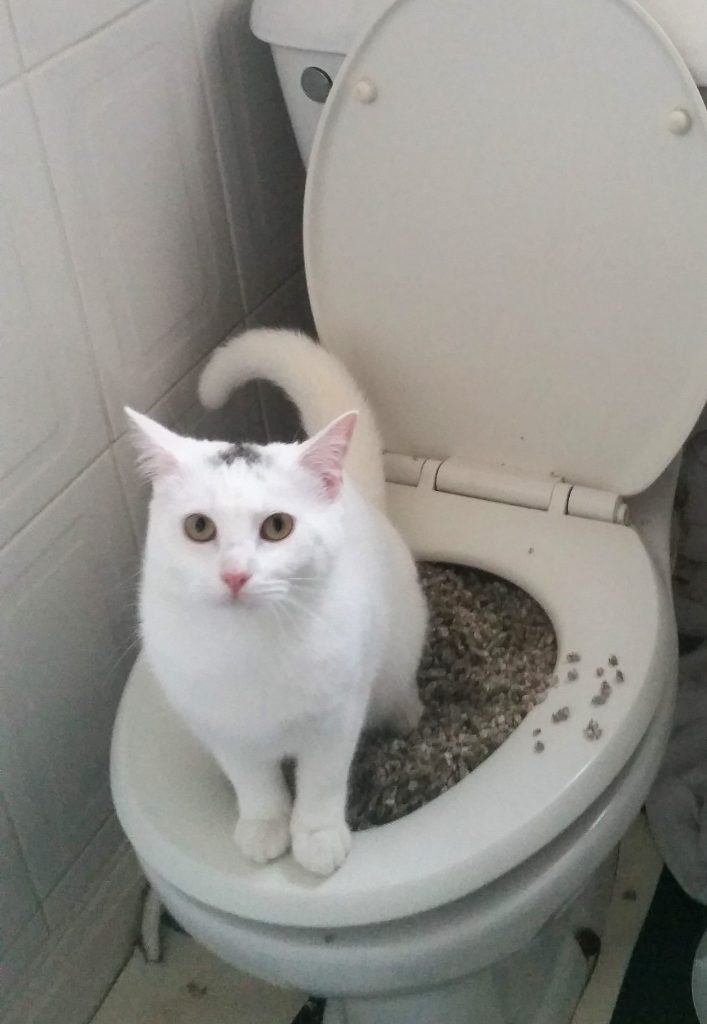 Right now, they're all using the loo, and it may be only a few more weeks before I never have to buy cat litter again. And when you're talking about three cats, that's a lot of money saved on cat litter!
Kitting out my new art studio on the cheap
I finally have a room of my own just for my art!
Unfortunately, I also have a mountain of boxes filling that room and no real structure yet. The temptation to rush out and buy new furniture for my studio is pretty strong, but I know I can make it work by using what I've already got. It just takes a bit of patience and a bit of imagination… my problem is, I have the imagination, but little patience!
I've been going through our boxes and furniture and looking at things with a view to repurposing them for my studio. Some things have been travelling around with me for at least 13 years, and I'd like to start from scratch, but I thought about how just a few months ago I'd been making art in a corner of my bedroom with only a cutting board resting on my lap, and I know I can hold out for a bit longer with my beaten up old desk that's finally come out of the loft.
eBay sales machine kicks into gear (without me)
As promised, Lord Balders has started selling on eBay at last. I often write that I hate selling online, and it's still true, but for him, it's all new. For a while now he's said that he'll start up an eBay business after the move, and I have to admit that I'm impressed with the speed at which he's taken to it.
Maybe I'm witnessing the beginnings of a reselling empire… whatever the case, I really appreciate the effort to join me in the side hustling (and I really, really appreciate not being the one doing eBay!).
Over to you…
What frugal things are you proud of this week? Let me know in the comments below!
I'm linking up with Cass, Emma and Becky in this week's 'Five Fabulously Frugal things I've done this week linky.