Five frugal things we've done this fortnight – including getting my Curve card & melting aluminium.
What a mixed bag it's been these past two weeks! Some Fintech finds and some freebie hobbies, but it's been a very fun fortnight in all. I'm always sad to see my son go off on his visits, especially when it's for such a long time, but we had a blast for the first two weeks of the summer holiday to make the best of it.
Signed up for a Curve card
I'm really excited about this one – it looks like it could be one of the best money-saving hacks I've taken up in a while!
I signed up for Curve, a debit card that combines your existing cards and actually lets you use your credit cards as a debit card… if you think about it, this has potential to be very, very handy indeed. I'm going to write about it in detail but so far I'm liking it a lot.
You can get £5 (and so will I) when you sign up for Curve with code G68DX (no free cash if you don't use the code!).
Mountain biking at Gisburn Forest
We wanted to pack some exciting stuff into Little Balders' last week at home before he went to spend the rest of the summer at his father's house, so we got the bikes onto the car and set off for Gisburn Forest one Saturday afternoon.
I didn't ride, but I was the official camerawoman for the day, and I definitely got plenty of exercise trying to keep up! It was a great way to spend time together in a beautiful setting.
Building a furnace and melting aluminium ingots from soft drink cans
One project that Little Balders got us into was building a furnace to melt metal. Of course, he was inspired by YouTube videos by Backyard Scientist and The King Of Random, and initially I wrote it off as being both totally impractical and way too dangerous, and also, a waste of time for me when what I really wanted to make – if ridiculous temperatures were going to come into it at any point – was a kiln.
However, I finally gave in and decided to join in the project fully, and in a couple of days we had built a working furnace, capable of melting aluminium!
We earned a lot of cool parent credit for that, and what's more, we're hooked on casting metal. And… I'm still going to build a kiln!
In all, we spent about £100 on the entire setup and we've got materials left over to make another small furnace.
Sourcing free aluminium for melting
We discovered that a few soda cans does not yield a lot of liquid aluminium. Nope.
The next step in making this new medium a truly frugal one was to get hold of some free metal for melting. I managed to salvage a lot of cans from my workplace, and now our friends and family are saving cans for us.
Even better, I struck gold (aluminium gold I guess) when I got a lot of high-quality, heavy aluminium rods from a scrap bin at work, just by asking the right people in a polite way.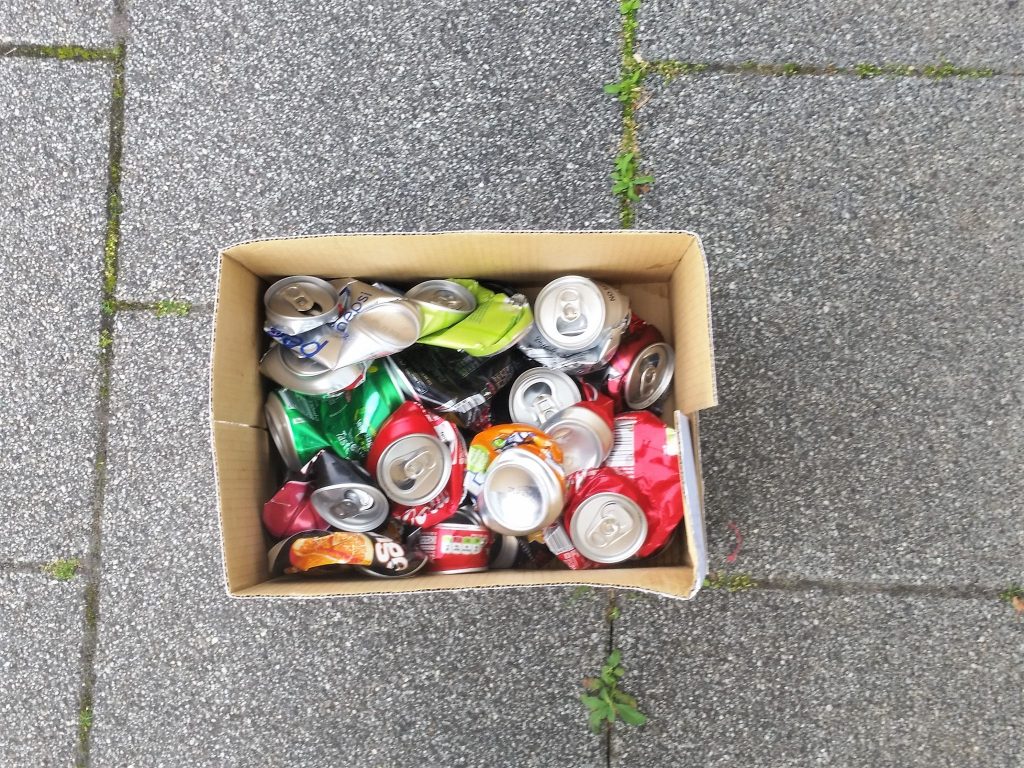 What's more, I picked up a helpful tip for creating a homemade flux for adding to an aluminium melt – low-sodium salt contains potassium chloride as well as sodium chloride, which is just what will help to prevent excessive oxidisation and too much slag forming on top of the crucible. That means less waste, which is fantastic!
Clamped down on electricity use
We switched to Bulb Energy as soon as we could when we moved into this house, and I've been so glad that we did. Bulb keeps you updated regularly with your energy use, and our last update showed that our electricity use had spiked.
We made a lot of effort to turn off tv screens and appliances that weren't in use, and switch off appliances that were using phantom power. Our latest update showed how worthwhile it was, as our electricity bill was lower than it's ever been! With a bigger house than we were in before, and different appliances (such as an electric shower), bigger bills were inevitable, but I'm pleased on how we've been able to turn it around.
Over to you…
What are your frugal achievements this week? Let me know in the comments below!
I'm linking up with Cass, Emma and Becky in this week's Five Fabulously Frugal things I've done this week linky.