Curve review
I have four credit cards and five debit cards. My husband has two credit cards and four debit cards. I've also got a prepaid Mastercard, and occasionally we pick up more of these. Between us, we run a network of bank accounts that most people would find dizzying. So when I found out about Curve, a Mastercard that combines them all and offers lots of enticing benefits, I was naturally very interested, but I had a couple of questions:
Is it safe?
How much does it cost?
How does it work?
Is it worth it?
Now, I've had the chance to try it out, and here are the answers! In short, I do suggest you should get a get a Curve card, and here are 5 reasons why:
5 reasons to get a Curve card
1. Get £5 for signing up
Free money is always going to get a thumbs up from me! Use promo code G68DX when you download the app and you'll get a free £5. Heads up – you have to use the code to get the cash.
2.  Paying with your credit card… when you're not allowed to
You can get around some sites' and merchants' restrictions on paying with a personal credit card, as using your Curve card is, again, a debit card transaction. This means you can pay your tax bill to HMRC with your credit card! Also, if, like me, you've regularly paid your council tax and utility bills via credit card for the points, you can get around any restrictions on credit card usage.
I just wish this was around way back when I paid my rent by debit card!
3. Cashback offers
The cashback is limited to the first three months, but of course it's worth getting. I've added Amazon to my list of cashback retailers as Amazon are notoriously hard to find on cashback sites these days, and so far I've collected cashback at Tesco as well.
4. Combining cards, transactions and receipts in one place
Don't underestimate the value of simplifying your finances – you don't need to have as many cards as us to feel frazzled, and a bit of order can help a lot. You can also have receipts emailed to you, which is also very helpful.
5. Paying only 1% 0% foreign exchange fee on overseas transactions!
It's very, very easy to rack up extra charges when you're travelling, and using your cards abroad can land you with a hefty exchange fee. A 0% exchange fee is fantastic, combined with the fact that you'll only need to travel with one card instead of a wallet full. It's no wonder it's a favourite with travel hackers.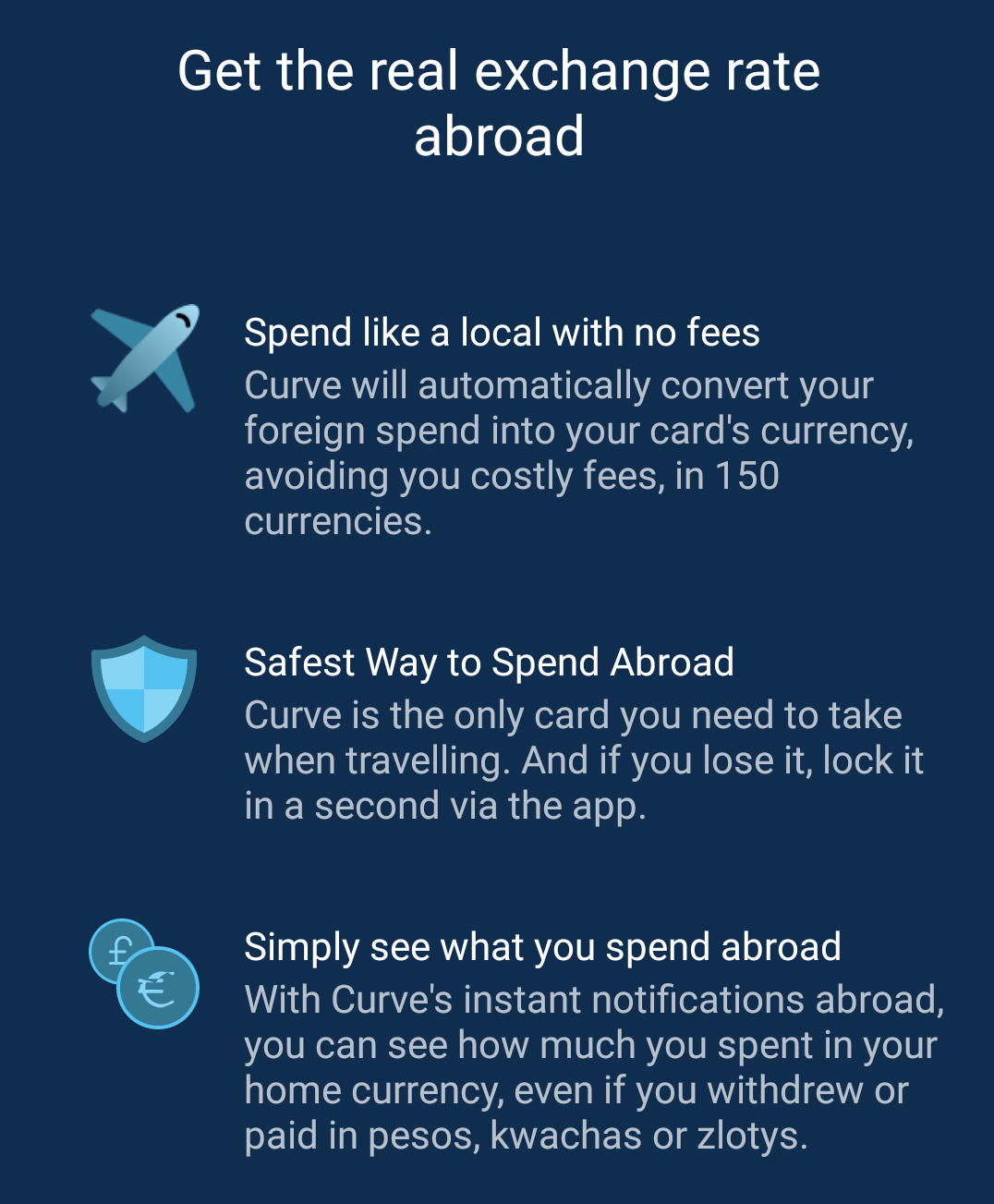 But apart from those 5 reasons, there are a few more features that you may enjoy, and I've gone into those in the "how does it work?" section below.
What is Curve, and how does it work?
Curve is a mobile wallet that connects to a Mastercard debit card. By adding all of your existing debit and credit cards to it, and using Curve to make purchases, you can take advantage of a range of benefits, such as the ones I mentioned above, as well as:
the ability to lock the card through the app if it's lost or stolen
the ability to "go back in time" and change the card you use for a transaction
The Curve Mastercard doesn't work like a prepaid card in the sense of having to load money on to it; rather, it charges your credit or debit cards with the transactions it makes.
How much does a Curve card cost?
It's free!
The standard blue Curve Mastercard is free, but you can also upgrade to a premium black Curve Mastercard for a one-off fee of £50.
The premium card allows you to earn double the Curve Rewards points. I was offered a free premium Curve account in order to accurately relate all of the features available, and this is what you'll see in my pictures here. I also had the chance to nab a limited edition Curve TUMI wallet for free with the premium account – but if you want one, you'll probably have to act fast to get one of these before they run out.
About the premium card…
They're not kidding when they call it premium: the card arrived in a box that was so swish, I was a little afraid to open it in case I ruined it!
I'm an artist, but I'll freely admit that I'm no graphic designer – it's a very different skill set – and I'm always impressed by excellent product design. Let's face it, the buying experience is worth something, and when I received my black Curve card and wallet, I was blown away. You'd definitely feel pleased to receive something that has had as much thought put into it as this has.
Features
Cashback
With my premium card, I've got a choice of 6 retailers for earning cashback, upgraded from 3 with the standard card. I chose Tesco, Amazon, Just Eat, Topshop, Boots and Shell. So far I've been collecting points on my Tesco shopping, so I've got 65 points, which is equivalent to 65p.
This cashback is an introductory offer for 90 days – you can see how long I've got left in the screenshot.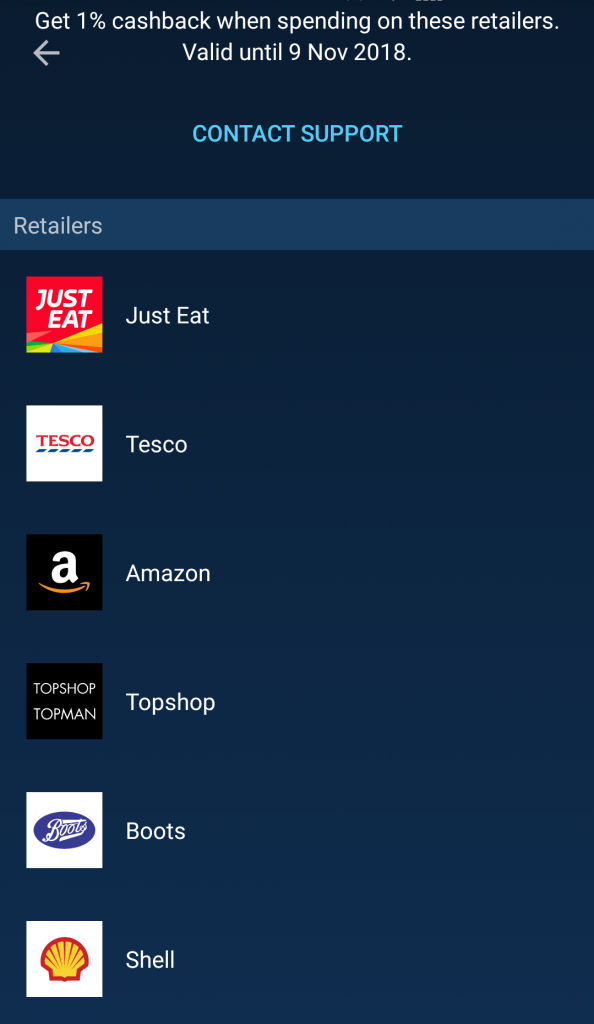 Time travel
I added two credit cards, and after a supermarket run, I switched one of my purchases. I had actually unintentionally used the wrong card, so although I had just wanted to test this feature for this review, I ended up happy to be able to use it!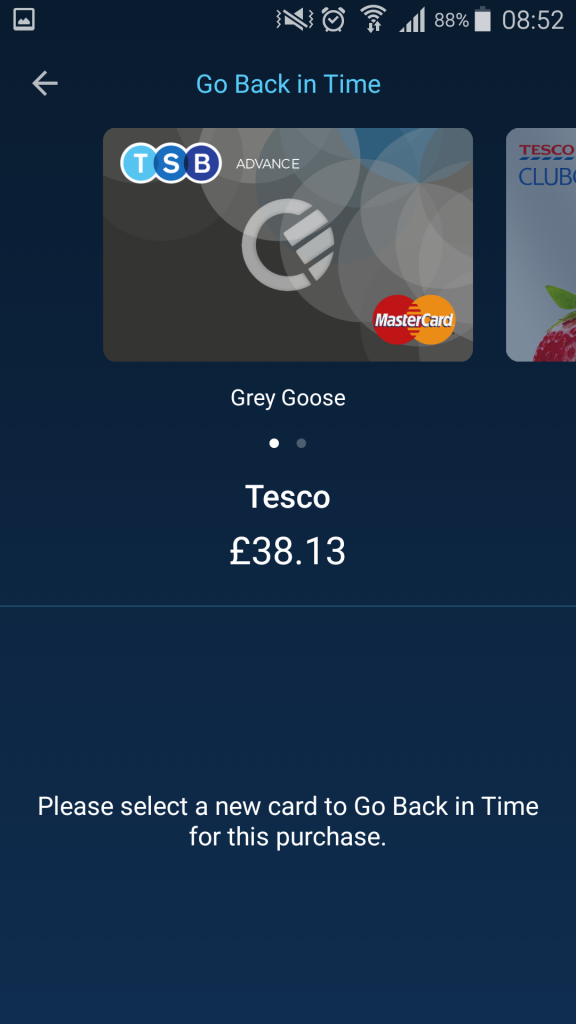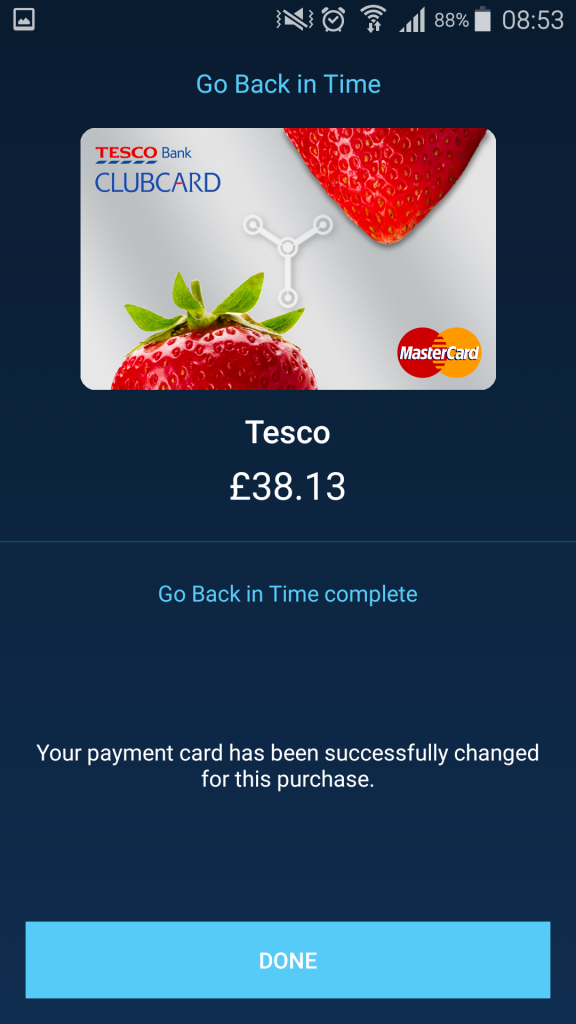 Is it safe?
Anything that involves my existing credit cards has to convince me of its safety.
Curve doesn't affect your relationship with your credit/debit card provider and you'll still get statements from them as you normally would – the difference being, you'd see "CRV" prefacing the merchant name on your statement. As for data security, Curve's website states: "your data on Curve is protected with financial services industry-standard encryption and security measures."
One thing to consider is that you won't get Section 75 cover for purchases over £100, but you are still covered by the Mastercard chargeback scheme.
I used the app and card for a couple of weeks before writing this review, and I feel quite safe using it. A full account of their security measures can be found here.
How to get Curve
If Curve sounds like it's for you, download the app and use promo code G68DX to get your free Curve card as well as a free £5 credit!