Five frugal things I've done:
It's been a big eBay week here, but we've been buying, not selling. I know, I know, but as I said before, I don't like selling online much. I've also been doing a lot of research for some posts, so it's hard to fit everything in. Still, here are some thrifty things we did this week!
1 – Reduced groceries
We generally get the same groceries most weeks and rotate meals depending on the level of effort we're prepared to make each day. Early in the week we found a reduced joint of pork that I made stretch over 3 meals – and that's with generous helpings! We don't seem to be finding many good reduced items recently; I think we need to pop in at different times to nab the yellow tickets.
Even better news – the husband finally came around to reducing our supermarket spending by shopping more at Lidl and Aldi instead of just at Asda.
2 – Packed lunch prep
This week we finally got ourselves prepared enough to make a packed lunch for my workdays – something we used to do much more often but had fallen out of. Preparation pays off, and makes my lunch hour go further since there's no time spent queuing up to buy food!
3 – Secondhand bookshelf
This year we're putting the money into improving our home, and since we got the sofas, I managed to persuade Lord Balders to have another look at eBay for our long-awaited bookshelf
. We found a bookcase with half-glazed doors not too far away for just over £30, and managed to fit it in our car! We can't believe how good it looks for so little money.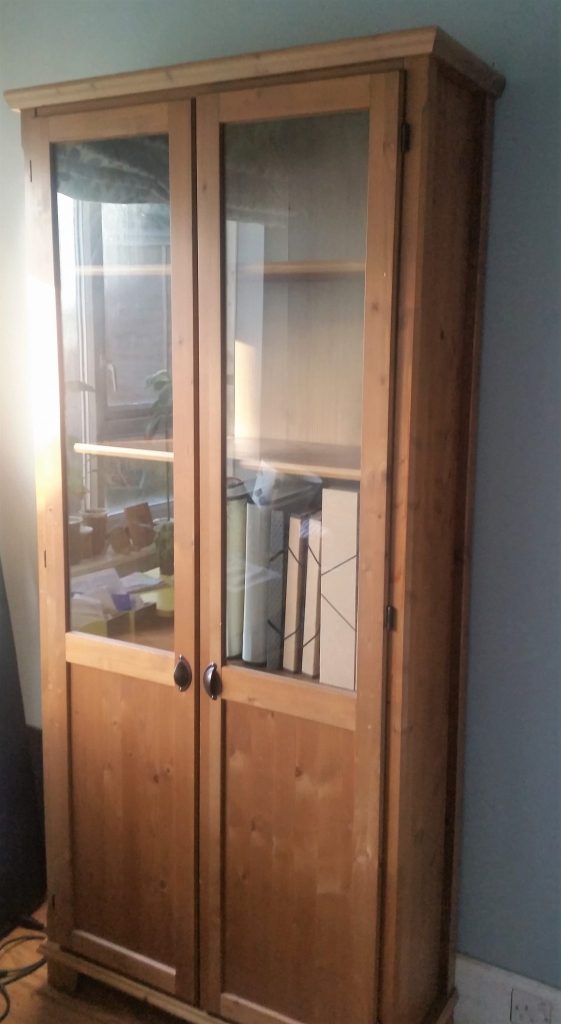 Now to fish out all my books from their hidey-hole under the bed and put them on display. At last!
4 – Dodging the school library fine
Another eBay save – Little Balders managed to lose his school reading book and after a lot of frantic searching on all our parts, he was resigned to having to pay an £8 fine. As skinflint parents we decided to get him to stall for a bit and buy the same book on eBay – less than £2.50 with delivery.
Ok, he still lost us some money but sometimes life with forgetful kids is about damage limitation.
5 – £100 for switching broadband!
We got our £100 BT Reward Mastercard for switching our broadband, and I quickly activated it and all that setup jazz just to make sure I didn't forget and let it go to waste. Our first purchase was a £15 food shop at Lidl. Thanks for the grub, BT!
What about you? How's your frugal week gone?
I'm linking up with  Cass, Emma and Becky in this week's 'Five Fabulously Frugal things I've done this week' linky.