Five frugal things we've done this fortnight:
Over the last two weeks we've been watching autumn kick in with the leaves changing colour. I do love the bright new colours of the foliage but not the temperature change… still, getting a £50 credit from Bulb towards our energy bills helps to make us feel happier about putting the heating on! Here are some more frugal things we've done:
Keeping my laptop alive
My laptop is looking pretty ridiculous now – it had bulldog clips holding the screen together and couldn't close shut. On top of that, the WiFi connection started to fail, and that was an even bigger crisis than the machine physically falling apart.
Thankfully, Lord Balders came up with a work-around that involved a drill and several screws, and whilst it looks strange and still can't close shut, still looks less ridiculous than the bulldog clips and doesn't spontaneously fall apart as it was wont to do.
Also, thanks to hubby's carefully storing some of his older computer parts, he had a WiFi dongle to give me, so we're back in business until the next laptop catastrophe! Seeing as I've been cataloguing laptop catastrophes for a while now, I'm glad we've managed to keep this old thing going yet again.
Mug painting with a porcelain pen – better than Sharpie mugs
When I ordered my printed mugs from Snapfish, I was delighted with them, but there was one that I didn't like as much as the others. The problem wasn't with Snapfish though, it was with my design. There was some writing that I'd placed too close to the top, and it looked awkward.
This week I bought a porcelain pen from Amazon after a lot of deliberation, because of the worry over whether it would work or not. I'd heard about the Sharpie mug thing but really don't need to waste money on something that would scratch off easily.
Turns out it was a great buy, as I doodled over the unwanted text on the mug, left it for a day and baked it in the oven, and it's set perfectly.

I'm a convert to these pens – I think it's a great idea for crafts (forget spending money on Sharpie mugs that'll only wash off) but I think it would be great for stopping one's mug from going walkabout in the office…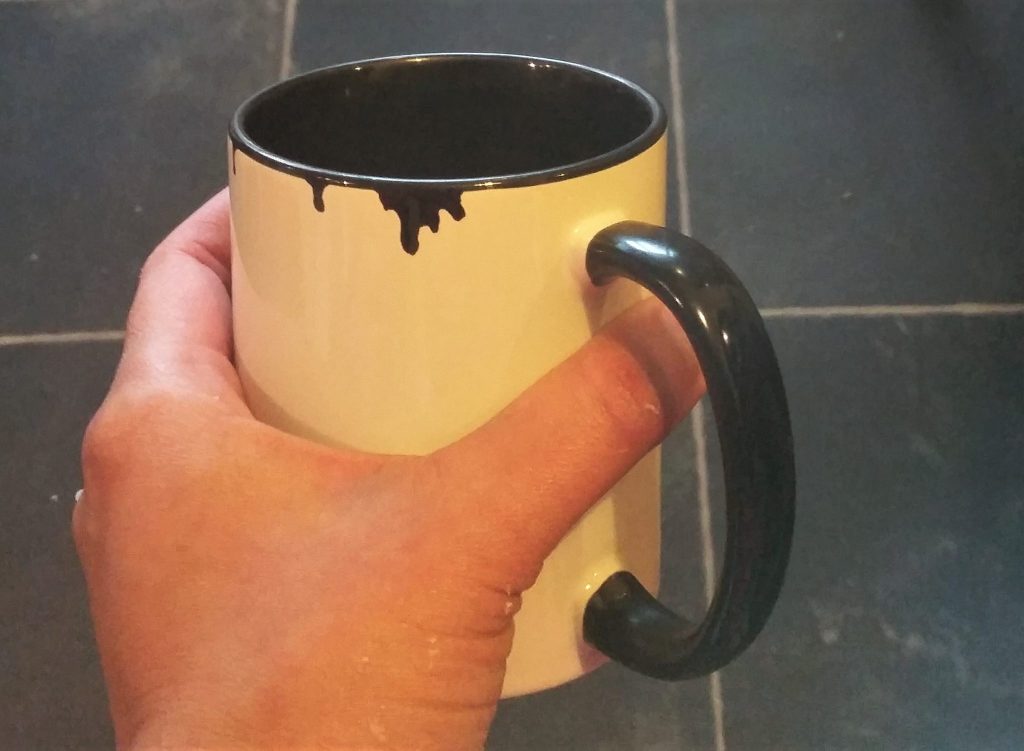 Writing reviews for rewards
This one is hubby's speciality this week – he got a card to remind him to complete a Tesco survey for 25 Clubcard points and a prize draw, and that reminded him to fill in a product review for one of his recent online purchases for more store loyalty points. A little thing that can really build up if you get into the habit.
A new, unbreakable cafetiere
Is this frugal? Well, if you think about how often we've broken glass cafetieres and had to replace them, you'd agree with us. The last time was just putting the thing into the dishwasher, wiggling it the wrong way and hearing that devastating 'ping'. Devastating because not having coffee on demand is definitely not something we can tolerate around here.
This time we went for a double-walled stainless steel cafetiere which is fantastic because not only will it be able to survive in our house, it keeps our brews hot and makes top-ups even better!
Giving dry cat food to the girls
Of course, giving our cats dry food to save money is common sense, right? The problem is, Vader can't have the stuff on account of his megacolon – sounds like a particularly nasty comic book villain – and buying dry food means separating them out at mealtimes, which isn't always convenient to do.
This week we decided to try out a box of dry food and keep them separate when eating. The problem is that Vader just looks longingly at Stinky through the glass door when she's chowing down on the new food, because his favourite food of all is the stuff that somebody else is having. He will try anything and everything to get at the stuff he shouldn't have, which means keeping on our toes to keep him away from it.
On top of that, Mohawk is just a bit of a spoiled brat now, not wanting to eat anything but that one brand of food she's gotten used to. Seeing as there's nowt wrong with her, she's having to get used to the idea, but she's not happy about it.
Over to you…
We'd love to hear your frugal things for this week!
I'm linking up with Cass, Emma and Becky in this week's 'Five Fabulously Frugal things I've done this week' linky.