Blogger to WordPress –
Last month I finally moved my blog platform from Blogger to WordPress.
If you blog or are interested in getting into blogging, you'll probably find this a bit interesting; if not, you've probably slipped into a coma (or more likely, not even opened this post, so I suppose it's safe to continue). Why mention this? This isn't a technical blogger's blog really, but it is a money saving one. I do practice what I preach, and everything you see has been done by my own hand in order to save money.
Why DIY?
The thing is, whatever you don't pay for with money, you do pay for with something else. In my case, I've paid in time – lots of time – and a fair amount of stress.
I spent a lot of time, and I mean a lot, getting my Blogger blog to look as good as it did. I harvested snippets of code from all four corners of the internet, assuming the internet is square (probably a dodecahedron now I've said it) to make my website look less DIY. I was fairly satisfied, and happy that I had done it myself.
It wasn't the looks that made me jump – I had been thinking about it for a long time, but it was the worry of Google's new SSL certificate requirements that pushed me over the cliff. I don't need an SSL certificate for this site, as I'm not taking passwords or credit card details, but it was the element of the unknown – would readers be put off by whatever Google decided to display in the browser bar, like a scary red triangle?
Custom-domain blogs hosted on blogger can't have https, unlike blogspot.com blogs, and not knowing whether this would change in the future was something I didn't like. In the end, it was feeling a bit out of control that did it.
Of course, I should say that I've discovered a love of tinkering with websites since starting Homely Economics on Blogger. I really love the way that tinkering with code can change things, and despite the fact that I don't have a background in web design or any real knowledge of what makes things run, I enjoy figuring out new words in this wacky language I hardly understand.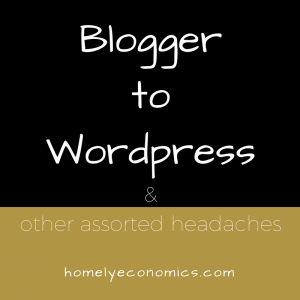 Tragedy Strikes…
But just like learning a language by going to a foreign country with a phrasebook and a smile, I've had some disasters… I wiped out my art website (which I'd only just got right, after spending a long time fooling around with html to create fancy buttons). Yep, totally wiped out by installing this site over it, like dropping a house on top of another one. At least I'd saved a template (do this, people, do it!) and was able to retrieve it, but without my precious widgets… and then I had to start with the css styling all over again… Well, I was an unhappy bunny that day, and worst of all, I'd done it to myself. With no real need.
On top of that, I've realised that there are some beautiful blogger templates that I could have bought from Etsy sellers for under a tenner to jazz up my site to the equivalent of how it looks now, without any of the drama! I mean, yeesh!
Oh, and then there was the realisation that Blogger's stats are wildly inflated… seeing my new true stats made me think I'd just broken the thing entirely, before I realised what was going on. Then I felt deflated.
But here's the good news…
The good thing to come of this is that by having to reinstall the template for my art site after having found out lots more about css, I got stuck in to customising it and it's even better than it was before. One or two bugs to sort with giant buttons on pages, but it's cool. I now have two happy websites that I'm pleased with the look of – and I'm definitely pleased with Homely Economics.
I've always enjoyed the DIY aspect of the site's appearance, since I wanted it to reflect some aspect of my (and my family's) personality: unpretentious, down to earth, hands on… but at the same time, let's face facts: for writers, artists, broadcasters – anyone disseminating media via the internet – your website is your shop front. No-one shops for something that's not better than what they already have – we all aspire to better things. So whilst my site does now make me look more posh than I really am (true poshness level: 30%, and that's entirely acquired), it gives me something to aspire to as well. That's more writing, better images, more investment.
Getting organised
It's also given me a good start to 2017, and made me think hard about what I want to achieve with my writing. I have a scary amount of projects on the go, so I need to get organised to make them work!
I don't know if I should have stayed put and simply bought a nicer template, or whether I've done the right thing. I'll probably keep tinkering with my other blogspot blogs on the side (yes, I have lots!) and see how they go. For now, I'm happy, and I hope you like the new site too!
 I'm linking up with Cass, Emma and Becky in this week's 'Five Fabulously Frugal things I've done this week' linky.