Five frugal things we've done this fortnight –
I've had a lot of fun with some of my printmaking projects this past week: inkodye printing was definitely a highlight for me, and making the most of the sunshine has definitely been a theme for the past fortnight!
Line drying – good for the soul
Yes, we had a heatwave! It puts me back into my default mode and I can catch a glimpse of feeling like I did back at home in Barbados. When I was hanging out a line of white shirts against a pristine blue sky I realised that the sight made me happier than many expensive treats could.
It's something about a vision of blissful domesticity under perfect weather: it doesn't come around often but it's marvelous when it does.
Wriggled out of £70 for renewing an SSL certificate
£70 is a LOT of money to me. But of course, my blog is something I run as a business and do earn money from, so of course I have to invest money in its upkeep. Still, when the renewal notices for my SSL certificate started to come in, I couldn't help but wonder if I could do it any more cheaply.
After an online chat with Siteground's customer service rep I got confirmation that I could go back to the free SSL certificate they provide – no hassle at all!
I found a great way to print fine art giclée prints
Inkifi is a print-on-demand company that specialises in Instagram prints and lets you print your pictures on high-quality card in a Polaroid-style format. But they also have a really wide range of print options, which includes giclée prints! So for other artists who want to offer prints of their work but don't want to shell out for huge print runs, this looks like a good option.
This code – INSTA10 – gives a 10% discount sitewide until the 29th of July as well.
Fantastic Inkodye printing!
Lumi Inkodye is a light-sensitive dye that lets you print photographs and more on to fabric or any porous material. I was given a few bottles to play with absolutely ages ago by a friend, and never got around to it until the heatwave and blaring sun prompted me to get on with it.
I am totally converted, and I can't believe how cool my projects came out! Inkodye is not cheap though, and it's hard to get hold of in the UK, but there is a cheaper, more readily available option: Solarfast dye.
If you're after something to do with the kids at home in the school holidays, then you'll love printing with sunlight! Solarfast doesn't have the ammonia pong that Inkodye does, so is better for using with little kids as well.
Claimed my first cashback with the Green Jinn app
I've known about Green Jinn for a while, but I believe I couldn't use it because it was only available for iPhones at first. Now it's on the Google Play store and I may be a bit late, but I'm very glad to have found it – my cashback app list could do with an injection of life!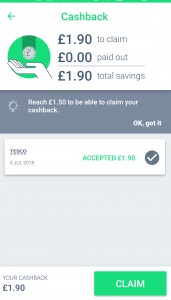 Over to you…
What are your frugal achievements this week? Let me know in the comments below!
I'm linking up with Cass, Emma and Becky in this week's 'Five Fabulously Frugal things I've done this week linky.