Frugal framing: how to display your art on a budget.
Recently I've been focusing on framing some of my family photos and memorabilia. Whilst framing fine art is a specialist area, it's something that has saved me a lot over the years.
I'd started by working on frames for my artwork, but decided to give some photographs a bit of the same attention.
Why bother framing?
A good frame can really enhance an artwork and keep it safe. We bought some Star Wars stamps for the release of The Force Awakens and have had them waiting to be displayed properly for so long – they're wasted if they can't be seen and appreciated!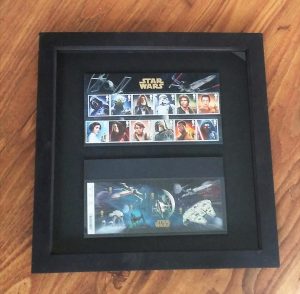 Putting them in a store-bought deep frame was a cost-effective way to show them off and keep them dust-free. I painted the frame with black emulsion and used glue dots (link below) to surface-mount them.
Good framing can make cheap things look like a million bucks.
Even an illustrator's business card picked up at a comic con looks the business in a frame – it says, look at me, I'm important enough to have my own space!
I love art, but I don't love figuring out how to frame an artwork without shelling out more than the piece is worth – after all, value is subjective, but the cost of the frame isn't!
When it comes down to photographs and sentimental pieces that aren't going to be offered for sale, it's then even more important to me to get good value on picture framing costs.
If you're planning to frame a few photographs or your kids' drawings, you probably won't be investing in equipment to make your own frames, so let's assume you're buying frames from a store. Photographs are most likely to fit standard sized photo frames, but artworks probably won't, so they may need to be mounted first.
Here are some framing supplies for all levels:
Cutting mat – a basic essential for any crafter, artist or anyone who doesn't want to ruin their good furniture with knife marks.
Craft knife  – don't bother using a blunt one, trust me.
Pre-cut window mounts – easier than trying to cut your own if you're a beginner and have standard paper sizes to frame.
Mount card – a necessity for surface mounting or if you want to cut your own window mounts.
Mount cutter – an absolute essential tool if you're hoping to mount your artwork to professional standards. It creates a smart 45 degree angled window that shouts "professional". It'll take some time to get used to the process, but if you're an artist, it's worth getting to grips with it. You probably won't need to bother if you're just framing your kids' pieces.
Acid-free glue dots – great for cleanly and easily positioning art without damaging the paper surface.
Framer's tape – this stretchy tape finishes the back of your frame and protects your work. A better option than gummed tape in my opinion.
Clear acrylic sheet – cheaper than glass, more convenient and easier to cut to size. For more expensive work, consider more advanced options such as thicker acrylic or UV reflective glass.
Is it worth it?
Getting all of these all at once might set you back a bit, but if you're making artwork to sell, it'll be an investment in your business that (if you can work neatly) will pay off. For family photos, you'll still save money on professional framing.
Framing and display tips
I'd recommend simple surface mounting for kids' artwork – hence the glue dots. Here's a tip – don't try to peel the glue dots off of their backing, as they'll just roll up and turn into blobs that look like bogeys (boogers if you're in the US). Peel one side off and press the dot onto the back of your paper or card, then apply to the surface. Simple!
Don't bother with clip frames unless it's for kids' pieces that are going to be changed over regularly. They don't add to the look of artwork – in fact they detract from it, and all serious galleries will reject work offered to them in clip frames. It's worth knowing if you're hoping to cut costs on presenting your artwork – this isn't the way to go.
Save money and create an expensive look by keeping your frames all the same colour, or similar colours. Sticking with a theme elevates the look of your display, and if you're painting your frames, you only need to buy one type of paint!