Here's how I made my totally unique – and free – paper doll wedding invitations!
Being an artist has its perks – one of them, in my case, being willing and able to take on the project of designing my own wedding invitations.
As I am very much a non-traditionalist and not worried about impressing anyone, I decided to combine my creativity and my knack for saving money, and came up with a way to invite my friends to my wedding for free.
I created a set of paper dolls based on myself and husband-to-be, and I emailed them to our wedding guests as PDFs!
Designing the paper dolls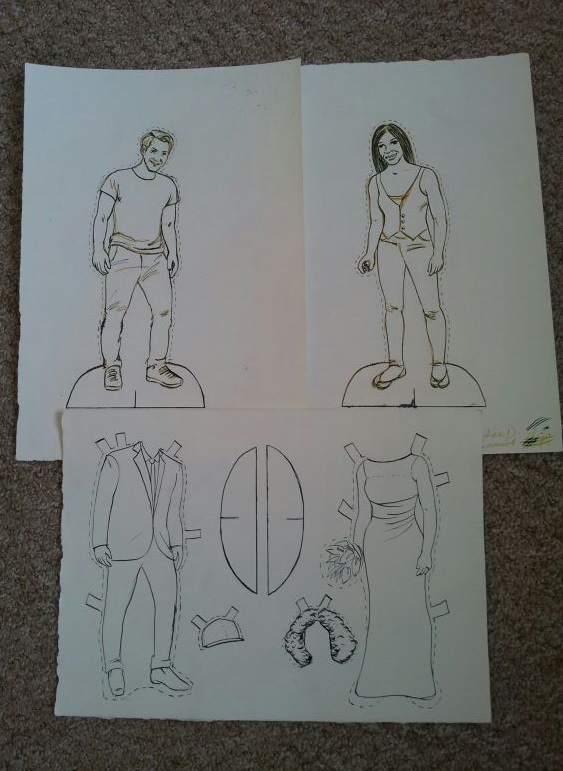 I did a lot of pen and ink drawings and scanned them to turn them into a PDF that I could then print.
On one of my train journeys from London to Burnley I tested out my prototypes in miniature. I had to be sure that the dolls would stand up and wear their clothes (and hairstyles) well. It did amuse the other passengers who were sitting at the table…
I came up with a very simple layout that featured Lord Balders and myself in our everyday clothes, and added the wedding dress and suit as extra outfits.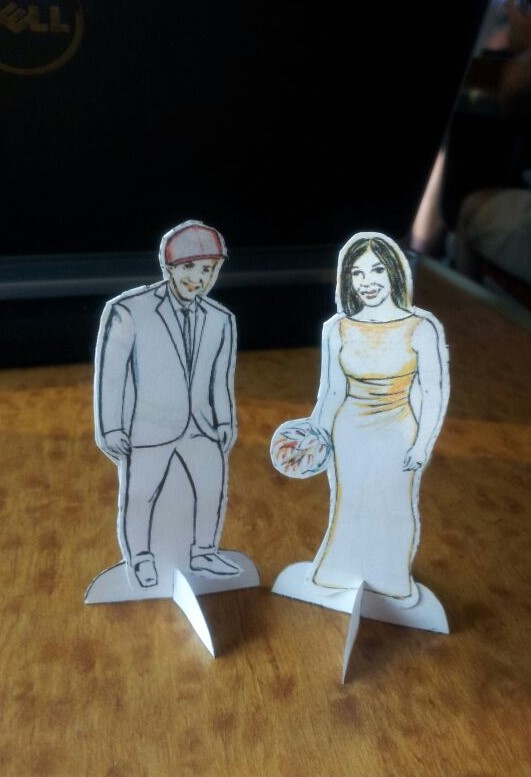 I added a bridal bouquet to match the one I would be carrying (I knew it had to have strelitzias) with tabs to hold it on to my doll's hand, and as an extra touch, I included a cap for Ste and an afro version of my hair for me.
My hair was mostly straightened back then, but I had to add my natural hair for it to be truly "me"!
Once I tested the mini versions, I knew that the full sized, A4 versions would actually work when printed out and assembled.
The finished invitations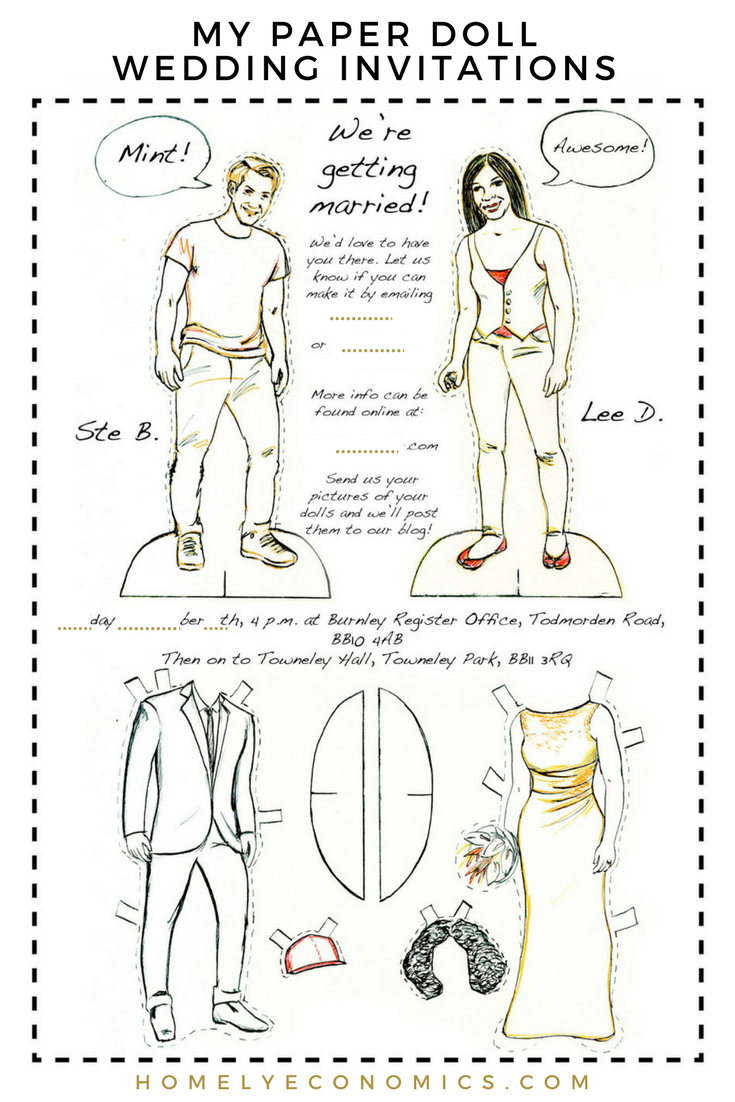 "Mailing" the wedding invitations
As I'd saved the invitation as a PDF, I simply attached it to an email to my guest.
I know this would drive some people crazy, but to me it fulfilled lots of requirements: it was free and it was eco-friendly, and it provided a souvenir to those who really wanted to have one, as they could print it out. It wouldn't turn into another bit of paper that they'd eventually just feel guilty about throwing out.
I did, however, send hard copies printed on card to those guests who I believed wouldn't be tech-savvy enough for printing email attachments or visiting a website.
Double duty as wedding announcements
For those who couldn't make it – all of my family, as they are either in the USA or Barbados, I created a version that served as a wedding announcement only. Keeping it as a digital file meant that I didn't have to spend any more on this, and I could send it to everyone.
I set up a blog for the wedding with more information
No stranger to blogging (even pre-Homely Economics) I set up a simple site dedicated to the wedding and put the url on the invitations. I used a free blog platform as well, which kept the cost at zero.
I invited my friends to assemble their dolls and send us pictures of them in the run-up to the wedding!
How to make your own personalised invitations and wedding site:
If you're confident, you can create your own illustrations, but if that's just not your thing, then find an illustrator on Fiverr. You can show them this post to give them an idea of where you're coming from!
You can set up a wedding blog for free on blogger.com, wordpress.com or tumblr.com, but if you want to give it a more sleek look, then you can get a custom domain first.
Over to you…
What do you think about my invitation idea? I reckon you'll either think it's quirky and fun, or you'll be horrified at the idea of not sending out paper invites! Well, there's room for all of us out there!