The garden shed market is absolutely rammed with different products. In such a competitive industry, manufacturers love to save money in just about any way possible.
It might be through thinner roofing, poor-quality windows, inferior door hangings, or other such sloppy building work.
Although such products might look just as good as some more expensive offerings, a few years down the line, these cost-cutting methods employed by the company will make themselves known to the customer.
Poorly constructed sheds will be much more likely to succumb to dampness or serve as a prime target for thieves. This almost always results in at best substantial repairs and at worst, an entirely new shed altogether.
Shed manufacturers know that a garden shed is typically a one-off purchase, as such they think they can cut corners and give customers shoddy customer service.
Since the cheapest upfront shed will probably end up costing much more down the line than a properly constructed one, our first and most important piece of advice for you is to buy a quality garden building first time round.
But how do you know you're getting quality? Well, without experience in woodwork and general garden building construction, this can be tough. That said, there are a few things that you can be on the lookout for that will certainly indicate a lower quality building. Below, we've compiled some of the most important.
Save money on a quality shed with a voucher
As you'll soon discover, the best way to save money on a garden shed is to buy a great quality one to begin with.
If your shed lasts twice as long as one made using inferior materials and construction methods, then providing it doesn't cost twice as much, it is offering better value for money. You'll often find that a similar model by a really top-notch manufacturer only costs a third or half on top of the cost of the lowest priced offerings around anyway.
Unfortunately, such robust garden sheds don't usually come cheap. That's why we recommend finding a quality supplier and then searching around to see if there are any vouchers that you can use to knock a few quid off the final asking price.
Here's an example of such a discount voucher from respected shed manufacturer Waltons. Most other companies run promotions from time to time as well.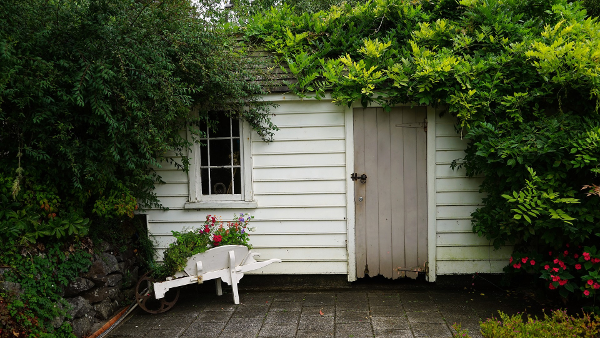 Building materials
You might be thinking that wood is wood and that's all there is to it. You'd be wrong there, however.
There are loads of different species of trees and the timber from each is slightly different in terms of appearance, texture, and durability.
Obviously, we don't expect you to be an absolute expert in every type of tree when shopping for a new garden shed. Instead, look at the type of wood used, if it's a slow-growing variety, that's a good sign. If you don't recognise the variety listed, a quick Google search will let you know if it's recommended for construction or for some other use.
Avoid manufacturers that offer sheds using inferior, fast-growing woods that are not smoothly finished. Although these products will almost certainly be cheaper upfront, they are prone to warping and slipping that will reduce the longevity of the structure.
Also, steer clear of those firms that don't list the variety of wood they use. There's probably a good reason why they're not proud of it!
Watch out for sneaky pricings!
Always check what you're actually getting for the listed price when buying a garden shed.
Some manufacturers advertise bargain-basement prices to lure customers in. Once they have their attention, it becomes clear that a load of extras need adding just to bring the building up to an adequate spec.
Check that floors and roof coverings are included. Also check the type of glazing used in garden sheds.
It's common to see manufacturers include ludicrously thin glass or even plastic alternatives for their sheds. Such fittings cannot offer the same security as higher-quality ones and, if you're going to be spending any time in your new shed, the lack of heat retention offered should also be a concern.
Another trick we've seen a fair bit of is for manufacturers to cut corners when it comes to delivery.
Whilst a professional team can certainly unload the necessary components by hand, it's often the case that pieces get damaged during the process. If these damaged pieces end up being missed and used anyway in the construction, the overall shed will certainly be more likely to succumb to the elements more quickly. Look for manufacturers offering a delivery service using heavy machinery instead.
Check the construction methods
All manner of construction methods can be employed by shed manufacturers and, of course, these result in wildly varying levels of quality in the end products.
Watch out for products using inferior shiplap joining methods for floorboards and roof panels. Also, pay attention to how the walls fit together.
Ideally, you're looking for at least single tongue in groove in terms of the joint. However, some manufacturers will construct their sheds with the even more durable double tongue in groove construction method. Again, the tougher the building is to begin with, the cheaper it'll be for you in the long run!
Where does the manufacturer source its materials from?
Something that really inspires a sense of quality is if the manufacturer of your garden shed mills its own timber.
If pieces for your new garden building are cut to order, there is far less chance of damp seeping into the timber whilst it is waiting around to be bought. When companies use third-party wood-cutting services, it's typical for them to have the pieces for many sheds cut and delivered to a warehouse, possibly months (or even years) before they're bought.
In this time, damage can occur to the pieces. This can be the result of damp in the building in which they're stored, or it could be caused by sloppy loading and unloading from storage. Either way, sheds built using such inferior materials are just going to end up costing you more in damaged tools and repairs down the line.