Based on the popular Homely Economics article "40 Questions To Ask When Buying A House", this househunting notebook – the Homebuyer's Journal – helps you to ask all of the right questions when you're about to purchase a property, and keep all of your notes in one place.

Viewing a house can be such an exciting and overwhelming experience, and it's easy to forget details – this fun, useful notebook will help you to keep on track and stay on top of the property search.
It's a great little present for anyone who's starting out on the hunt for their first home, or a couple starting the journey of making a home together.
There are summary pages for 10 properties, where you can list each one's pros, cons, price and more, allowing you to easily compare properties and importantly, estimate your savings and costs.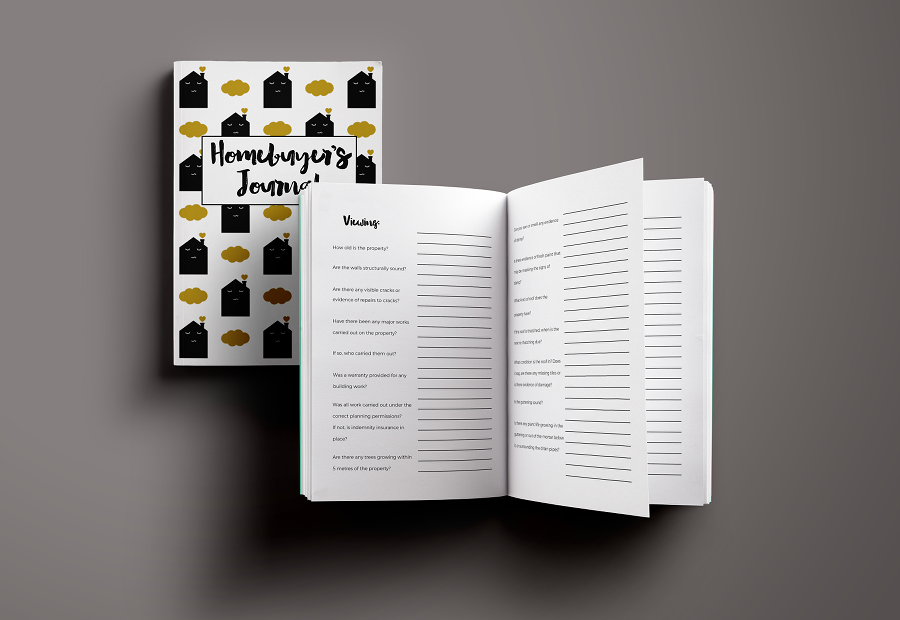 82 questions to ask when buying a house!
Eight sections are provided for house viewings, allowing you to make expanded notes on each property and reminding you of 82 questions to ask when viewing your prospective new home. There are also additional sections for adding your own observations.
A floor plan section allows you to space to draw your own floor plans and jot down ideas.
It's impossible to encounter every single variable when it comes to inspecting properties, and we'll all have our unique requirements in a home. However, this journal covers a lot of ground and gives you a thorough set of questions to help uncover potential problems and hidden costs in your dream home.
This is the notebook that can help you to approach viewings with confidence – cross out the questions you won't need, highlight the ones you won't want to forget, and add your own. Looking for a new home or investment property can be stressful, but this journal will help you to get organised!
The notebook measure 5.5″ x 8.5″ and the cover illustration features happy houses in a black, white and mustard colourway.
It's primarily focused on the UK housing market, so includes topics such as council tax and rights of way. If you're looking to relocate to the UK, this could be just what you need before taking the plunge!
Find out more about those vital questions in the post that inspired the Homebuyer's Journal, 40 Questions To Ask When Buying A House.