5 Frugal things we've done this week:
I just couldn't think of what made this week particularly good from a money-saving point of view, so I asked my husband – et voilà! He's added two of his own this week!
1 – Bought a secondhand desk chair via Facebook
This one was all me – we needed to replace the Stokke Tripp Trapp chair that Little Balders has been using at his desk. Yes, it's the very same one he used as a high chair 12 years ago! But the thing is, it's nowhere near as comfortable as it needs to be for sitting for any length of time, and let's face it, my 12 year old is using his computer for gaming, not tapping at homework for 10 minutes at a time like a kid from a catalogue.
I found one on a local Facebook buy and sell group for £10, and it looks almost good as new.
I'm going to sell my old one now, so extra frugal points when I get around to that.
2 – Packed lunches and made oats to take to work as breakfast/snack
As proud new flask owners, we're feeling rather smug with cutting down our coffee costs, and I guess that's pushed me to start taking even more food around with me everywhere I go.
I couldn't help but notice some of my work colleagues turning up in the morning and then settling down to eat their oatmeal – breakfast at home on your own time is for shmucks, apparently – so I thought hey, learn from the cool kids and take some overnight oats in to stop myself turning into a hangry monster come 4 o'clock.
It works!
3 – Checked tyre pressure to get better fuel consumption
This one is entirely Lord Balders: I didn't even know he'd done it until we were chatting about this post. I shouldn't have made such a surprised face, I guess; he's in on this with me after all!




4 – Driving at 60mph on the motorway
Another one from my husband for better fuel consumption – when pressed, he did admit that this was mostly because he'd almost run out of diesel so was trying to make the fumes ferry him further towards a filling station.
5 – Yellow sticker meat & veg bonanza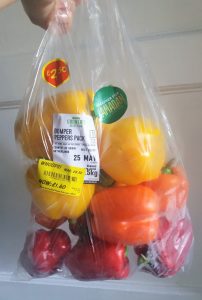 Things on the supermarket reduction shelves aren't really discounted as heavily as we'd like them to be when we swoop in, but I reckon we do save quite a bit by starting there and seeing what we can get. This week, three packets of beef steaks went into the freezer and one shoulder of lamb went pretty much straight into the oven.
I got a ginormous bag of peppers at a reduced price as well; I think it's time to see if I can make something more interesting than usual out of these.
Over to you…
How's your frugal week been?
I'm linking up with Cass, Emma and Becky in this week's 'Five Fabulously Frugal things I've done this week linky.
Read last week's 5 frugal things!