Five frugal things we've done this fortnight –
The summer holidays have officially started today, and we're about to be slapped with a hosepipe ban. It's going to be a busy few weeks for us as we keep the not-so-little-anymore Balders entertained, so my next instalment is sure to be full of ideas for keeping 13-year old boys busy in the summer!
For now, here's what we've done this fortnight:
Colour matched paint to Farrow & Ball's Studio Green
I've had an upcycling project on the go for a while now and my Frankenfurniture creation had been sitting in my studio, half-painted, for the last few months.
A friend of mine at work has been renovating her bathroom and has made me fall in love with Farrow & Ball's Studio Green paint, and I knew it was the right colour for my upcycled furniture creation: nearly black in some lighting, with a hint of dramatic colour in others.
However, my budget doesn't run to Farrow & Ball for this kind of project. I did splash out on some Valspar paint from B&Q in "The Space Between" and I just love the result! And I do love the Dave Matthews Band reference too…
Only thing is, I started to rethink the arrangement of the pieces after I took it apart to paint it and I'm almost back to square one!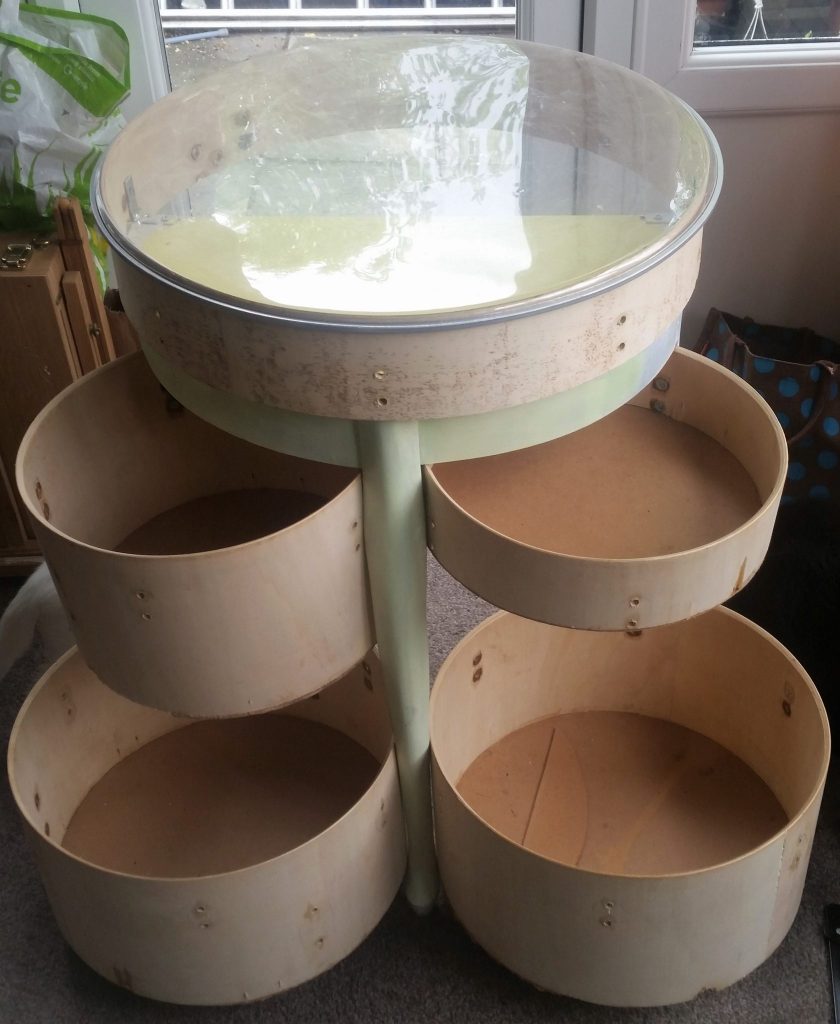 £1 off wine for a dinner party
"Dinner party" sounds stuffy, but we had some friends over for dinner and a chat last weekend and I decided to take advantage of CheckoutSmart's £1 cashback on a bottle of wine – pretty good timing and a pretty good discount, percentage-wise!
Finally got to grips with what Amazon Prime Day is
I'm not anti-shopping, but I don't do all that much compared with the average person, I guess. I finally perked up my ears to Amazon Prime Day after ignoring the hype for years and got Lord Balders to take out a free trial in time for Prime Day.
I was after a few specific items to do with setting up a DIY screen printing mini-studio, but guess what? None of my items were any cheaper!
After the build-up and the let-down, I will admit that there are good things about Amazon Prime, but nothing I would want to pay that much money for. But since you can take out a free trial every 13 months, I am definitely going to add that to my money-saving arsenal, just in case something we need pops up in a Prime Day sale.
Get a free 30 day Amazon Prime trial here.
75p galvanised planters
I was happily minding my own business in my local Asda when I came across a set of 3 mini galvanised planters on sale for 75p down from £3. I scooped up as many as I could get away with, since my husband was giving me the "you are officially crazy" stare.
Seriously, they were so cute and perfect for storing little bits and pieces in my studio that I couldn't let them pass me by. Maybe one set might see a plant pot, like they were intended to.
Clogged sink blues
The latest challenge has been dealing with a clogged kitchen sink. What looked like a simple fix has turned out to be more complicated and mysterious, but we're on the case, and we're totally sure we can DIY it. After installing our last bathroom we have little fear of taking on plumbing jobs ourselves.
Thank goodness for getting the dishwasher when we did!
Over to you…
What are your frugal achievements this week? Let me know in the comments below!
I'm linking up with Cass, Emma and Becky in this week's Five Fabulously Frugal things I've done this week linky.