The biggest news this week might be the fact that Zeek is now in administration. It's gutting as it's not just a company I talk about online, but I talk about it online because I actually use it! We've done well out of Zeek vouchers and gift cards, but we've never left any credit in the app and haven't been caught out that way.
I really hope that none of you have!
Paid an HMRC tax bill with a credit card
Thanks to my Curve card we were able to pay a tax bill using a personal credit card, picking up a few cashback points along the way! Definitely useful if you ever have to pay tax as a self-employed person.
50p breakdown cover again!
This is a obviously something we're always going to shoot for, having done it once before – in 2017 we got our breakdown cover for 49p, so we used our Tesco Clubcard points to do it again, and got this year's breakdown cover for 50p!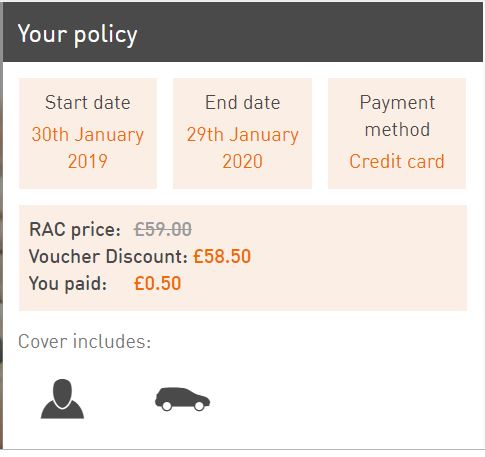 Tracking our grocery spending
Tracking our grocery spending was a big deal for me back in 2014. It helped supercharge our savings for a house deposit and was a major push towards writing this blog. Since then we've done fairly well with saving money at the supermarket, but I wanted to start doing it again to share with my readers.
Why? Well, nothing gets your butt into gear like knowing you'll be sharing the results with the world! Besides, we want to ramp up our savings again to make some house improvements, and one of the best ways to do that is to trim down our recurring expenses.
Food is definitely a big recurring expense! See how we did here.
Chasing a missing cashback bonus
Sometimes cashback doesn't track as it's supposed to, and that's a bummer. You shouldn't ever buy something solely for the cashback, just in case this happens – but if we're being honest, the bonuses do play a part in incentivising purchases.
I qualified for a £2.50 TopCashback bonus a while ago, but it didn't track automatically. After waiting a week it still hadn't tracked, so I raised a support ticket and was really pleased with how it was handled.
On top of that, they helped me raise a claim for cashback and a £3 bonus that hadn't tracked back in December, that I had forgotten about. Yes, I do slip up sometimes, even when there's cash involved!
Relisting on Etsy and eBay
Ste received an offer from eBay to give him £10 after he sold an item at a value of £10 or more. It was an offer he couldn't refuse! After starting eBay with a bang last year, it tailed off, but a good incentive like this one is just the thing for getting back into the habit.
For my part, I relisted some of my expired Etsy listings and started pinning them. I don't know why I never did that before, because they're definitely pin-worthy subjects!
As usual, don't forget about using this link to get free Etsy listings when you want to start your own store.
Over to you…
How has your frugal week or fortnight been?
I'm linking up with Cass, Emma and Becky in this week's 'Five Frugal things I've done this week' linky.