This post contains affiliate links, marked by *
Housing hacks: how your house can earn you money
When we think about making money from our homes, we usually think about house flipping: buying a property to renovate and sell on for a profit. Whilst this is certainly possible, it's not for everyone, and certainly not for those who rent, or those who want to stay put and enjoy their house as a home.
With that in mind, here are some ideas from a few UK bloggers that can turn the roof over your head into a money-spinner. Bear in mind that you may need to inform your mortgage lender or landlord if you plan on embarking on a commercial venture involving your home.
You could try…
Renting your home short-term
This is the most obvious way in which you can make some cash from your home, isn't it?
You can let your home out on AirBnB and Booking.com. This would be a great option if you have a property that might be empty for a while, or an annex, or just somewhere else you can kip for a few nights while you make some cash.
If you're renting your home though, you may not be allowed to sublet it, so bear that in mind.
Using your home as a film set
Well, those tv shows have to be filmed somewhere, don't they? Nick from Pounds and Sense has written a comprehensive article about making money by offering your home as a tv or film location, and it's a must-read if you fancy making your property work for you without renting it out.
Nick shows that it's not just mansions or period properties in demand either; many different homes are needed for the film and tv industries. Being a bit quirky probably doesn't hurt either!
If filming seems interesting but a bit too intrusive, you could think about…
Using your home as a photo studio
This is very similar to using your home as a film set, but potentially less intrusive. Lots of people need interesting locations for photo shoots, and if you've got a wacky room, gorgeous garden or even a rustic barn, you may be just what they need. You may find potential clients in:
Local photographers (of course)
Art students looking to photograph sculpture for their portfolios
Fashion students looking to photograph outfits for their portfolios
Drama students preparing headshots or advertising an upcoming performance
Musicians and music students in need of promotional photographs (or a music video)
Couples preparing their own DIY wedding/engagement photographs
Perfect and pristine doesn't always win out in this type of use, as aged and dilapidated can often be very picturesque! You can set up your own website advertising your home – how about a .house domain?*
Maybe offer the location in exchange for some photographs to start you off. You can then approach local photographers, art studios and collectives, colleges, universities and bands.
You can get a free .co.uk domain name for one year to test this out!*
Renting out a spare room
David from Thinking Thrifty has written a fantastic post about making an income from your spare room. It may be from having a long-term lodger or from short-term lets.
This is great for those who live close to sporting arenas, football stadia, conference centres or railway stations. Heck, it's great for anyone who lives anywhere in London.
Rent out room for a pet
Human lodger not sounding too appealing? I get that. How about an animal lodger? Francesca from From Pennies To Pounds has written about making money from dog boarding – but it's not just dogs in need of a home away from home for a time – all pet owners will find themselves in need of a break occasionally.
Renting out your garden
Nick from Pounds and Sense has also compiled a list of unusual ways you can profit from your garden, including renting it out for someone else to use as an allotment. A lot of what you can do will depend on its size and accessibility, but even if you don't have much space, you can still grow flowers or produce to sell on, and maybe you'll be able to incorporate the next idea…
Renting out storage space
If you've got room to spare but don't want to have people (or animals) under foot, you could try renting out the space as a long-term storage option.
Selling from your driveway
When I lived in the countryside I often encountered honesty boxes at the end of a cottage garden or driveway, offering fruit and veg, eggs and flowers for sale.
Honesty boxes will probably work best in a small village or rural location where there's less likelihood of a stranger legging it with your stuff, as in a small community, most people will be decent enough to feel bad about nicking off their friends or acquaintances.
If you've got to make some quick cash but a boot sale is too cumbersome an idea, you can set up a table on the end of your driveway. I did this when I had to move house and needed to dispose of some furniture in a hurry. Even without masses of foot traffic, it worked!
If you fancy drumming up lots of traffic, organize a local yard sale and get your neighbours in on it. The more of you there are taking part, the more buzz there will be and the more you're likely to sell.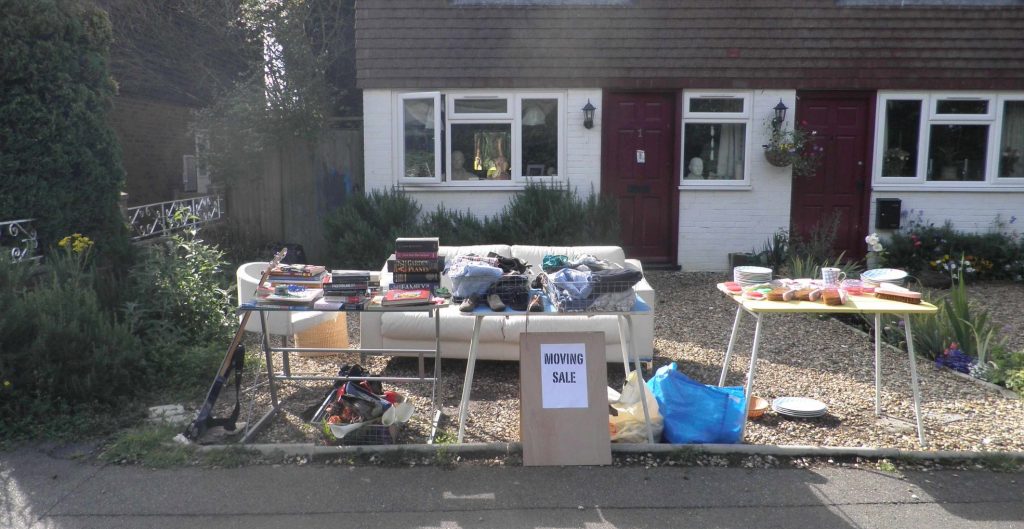 Renting out your driveway
Speaking of driveways, if you've got one that's sitting empty for a while, why not make a bit of cash from it? David from Thinking Thrifty has written about how you can make money from renting out your parking space. If you live in a city, or in a suburb or village close to a main line station, you can attract long-haul commuters needing to drive part of the way and get a cheaper ticket in to work.
This is also great for those who live near a football ground or popular amenity but don't want the hassle of taking on a B&B service.
Becoming a temporary art gallery
This won't be for everyone, but if you're located in a town with heavy footfall and a thriving art scene, your front window might be just the thing for an upcoming artist or art collective.
Many towns and villages also put on regular annual open studios, so you'll have an opportunity to show your own artwork from your home, even if there isn't a huge art scene for the rest of the year. Perhaps teaming up with other artists in your area to put on a show in your home might be a good way of drumming up interest before you have gallery representation.
Entering a free postcode draw
If none of those are right for you, then you might still be able to get a bit of free cash from registering your postcode on PickMyPostcode – a free cash prize draw funded by ads. Well, it's not your home making cash as much as your address, but all it costs you is checking regularly to see if your postcode comes up!
Over to you…
So there are my ideas about how your home can earn you money. Have you tried any of these, or would you? Do you have any other suggestions? I'd love to hear about it in the comments below 🙂