This post contains affiliate links, marked by *
Want a more interactive Present Day

? Try a role playing game themed party!

As a family, we have a Present Day once a year.

The advantage of a Present Day as opposed to a big, commercialised holiday for giving gifts is that you can apply whatever theme you like, and have it whenever you like. It feels more special as it's voluntary, and not something you have to do on the same day each year.

A role playing game (RPG) theme is a great idea for a family present day because you can integrate a bit of online role playing into real-life, and it's a bit like a mini cosplay at home.

When we did this, we knew that our son was fast growing out of costumes and role playing, but he still loved the adventure narrative. So we set out to create an entire immersive day, gave him some challenges to complete in order to win his rewards, and styled it after a medieval fantasy.
Tips for making your own RPG present day or treasure hunt
If you want to have your own present day with a quest and reward theme, think about the ages and abilities of your children. Choose a theme that fits their favourite game, characters or hobbies.
Start off small and get more ambitious as the day goes on, and if your child is easily embarrassed, then make a fool of yourself first!
Go for cheap cosplay
You really don't need to spend too much time on the details – your kids will be happier if you haven't made yourself totally frazzled by going over-the-top.
Cardboard boxes can become treasure chests, shields and armour; printer paper lightly blotted with coffee and tea bags can be made into an antique scroll, and custom-printed paper labels can go around soft drinks cans to transform them into special potions.
You can find lots of free, good-quality illustrations to embellish your home-made items at rawpixel.
You can always add nicer touches like using sealing wax and a stamp* to close the scrolls – we used this trick!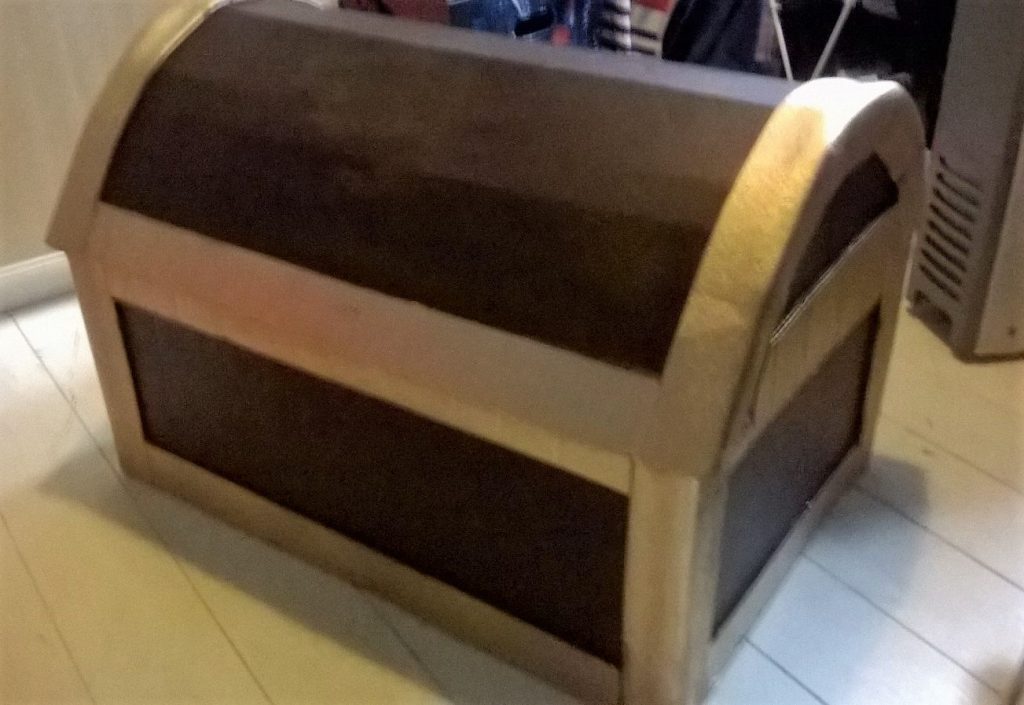 If you want to make some longer-lasting armour, you can use ModRoc bandages* to form armour to fit your little ones. Just make sure to use cling film over their clothes before applying the ModRoc!
I used cut foam sheets* over the ModRoc to create smooth shapes and brushed them with acrylic paint.
Kid-sized quests to complete for rewards
Mild-mannered housepets can become ravenous beasts for the day! Ok, they may well already be ravenous beasts, but if you come up with some fantastical names, provide some treats and get your kids to tame the wild creatures.
Cardboard cutouts of their favourite game or movie villains can make for target practice.
Integrate their hobbies into the challenges as much as you can. Little B was into archery so we got him an Air Storm Dino Hunters bow* to use indoors while he used a real compound bow outside.
Whatever you do, make sure to have lots of rewards for taking part.
Ultimately, one of the grownups is going to have to dress up as the boss and agree to take a pummelling. That's just how it works.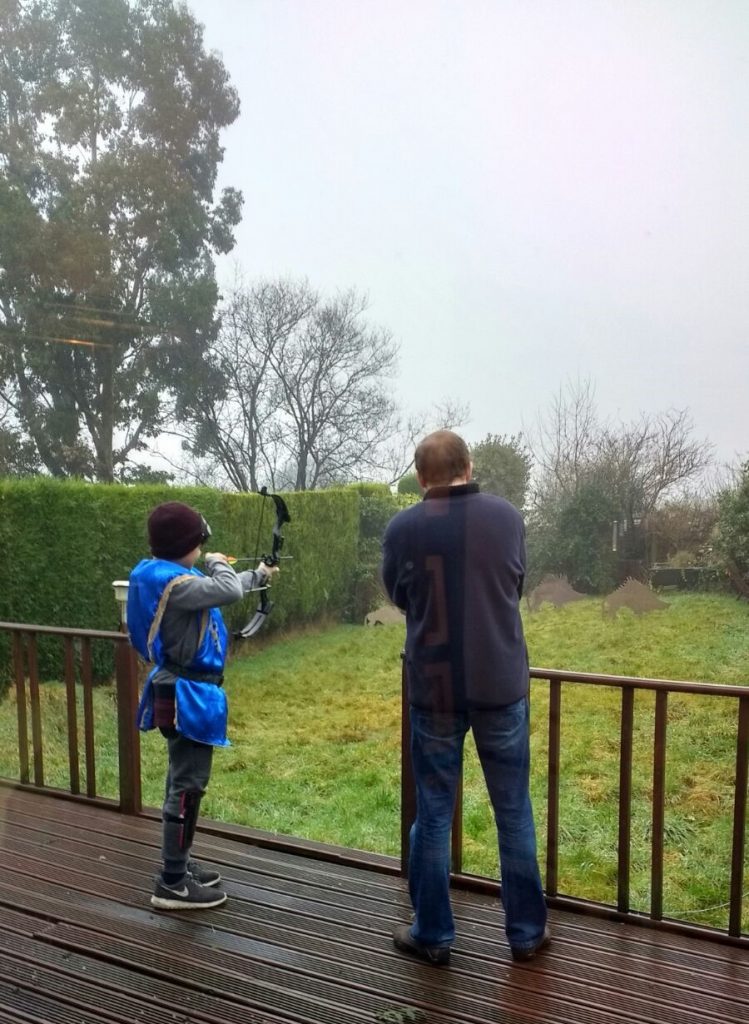 Everyone loves dressing up!
On the morning of our RPG day, Little Balders woke up to find us in character, complete with handmade fleece cloaks and homemade spears and axes – made from curtain poles and styrofoam packaging.
Then he received his paper scroll instructing him to find and feed the vicious beast, previously known as the cat.
This quest was to set him up with the rules of the day. Once the vicious beast was fed, he received his first present – a knight's tabard with his crest on the front.
That one took me more than a day to sew and applique whilst he was at school! Painting a plain cotton tabard might have been a more time-efficient move.
Just to prove that cost doesn't always matter, a couple of plastic cutlasses from Poundland to stick in his belt were one of the day's smash hits.
As Little Balders is keen on archery, we'd set up some cardboard cutouts of pigs in the garden, and gave him another scroll – this one instructing him to shoot the pigs so that we could have a sausage and bacon breakfast.
Thank goodness his archery skills helped us to get breakfast on quickly, as we were absolutely starving by this point.
We spent months planning it, constructing cardboard treasure chests, making costumes and writing quests.
We must have spent as much on glue and paint as on gifts! But hey, where else can you get a custom-made treasure chest? It was tiring, but it was a brilliant day that we'll remember forever.