Five frugal things we've done this week:
Half terms are always a bit weird for us as we have to wave goodbye to Little Balders for the week as he visits his father.
It also means a long return journey which eats into our budget and our time, so here's what we did this week to be a bit frugal on the money front.
1 – Managed not to put my foot down on that long drive
Honestly, this is a big deal for me. I've always liked to floor it on the motorway!
Not, of course, that I advocate breaking the law… [cough].
Motorway driving is so monotonous as well that your speed can creep up on you, and so can your fuel consumption. Following on from last week I definitely had to practice what my husband preached and exercise patience behind the wheel and stay in the slow lane.
2 – Made my own cleaner
There are so many good recipes for natural, home made cleaners out there… this isn't one of those posts though, although I may do one soon. I just had a bit of a lemon knocking around that had seen better days, and I combined it with white vinegar and water to give the house a bit of a blitz.
I never buy cleaners from a store any more – the only bought items in my arsenal for day-to-day use are washing-up liquid and occasionally, bleach for big bad jobs.
3 – Did supermarket shopping late on a Sunday afternoon
After that 6-hour return trip on Sunday we were hungry… sometimes we've treated ourselves to a takeaway on these occasions but this time, we resisted all the fast food and the takeaways, and nipped to the supermarket on the home stretch.
That killed the proverbial two birds with one stone – picking up some marked-down ready-made potatoes au gratin (I was keen on this because I never could make mine come out right when I used to bother) to go with the leftover roast chicken we had at home, and grabbing a freezer full of reduced meat, and more…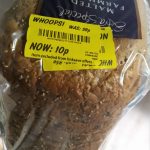 I did say before that I never get stuff that's significantly reduced… well, this time I was happy!
4 – Happily accepted hand-me-downs
I know that some parents won't accept second-hand clothes for their kids. Erm… that's not me.
My good friend S has a young lad who is a year and a bit older than Little Balders, and has grown taller than all of us; not great for S having to replace his clothes, but great for Little Balders who inherits lots of fantastic threads on a regular basis.
This week I was given a bag that included a new (to us) suit, which is incredibly handy as I was just about to buy a new one! Thank you S, and your amazingly tall son!
Only thing is, I never get to pass on my son's clothes as he seems to wear them with vengeance (or something) and they never leave him in a state that's fit for anyone else.
5 – Installed MySupermarket on my phone
If you're serious about working the Asda Price Guarantee hack, you need to use MySupermarket, either on your desktop or on your device.
It'll tell you which supermarkets are cheapest for your list or specific item, and help you work out how to separate your shopping baskets in a way to maximise your price guarantee coupon.
I used to have it on my old phone ages ago, but when the phone got old and buggy I had to delete a lot of apps. I replaced the phone but didn't keep up with replacing all the apps, but I'm getting my game back together with my cashback apps from now on.
Over to you…
How's your frugal week been?
I'm linking up with Cass, Emma and Becky in this week's 'Five Fabulously Frugal things I've done this week linky.