My £10 wedding dress: how I bought my perfect gown for next to nothing.
Yes, you read that right: I bought my wedding dress for £10. I'm sure you're thinking there's a gimmick somewhere, and of course you'd be right!
It involved:
a. A bit of a second-hand shopping
b. A bad fabric hoarding habit
c. A lot of DIY alterations.
The hunt for the dress
After Lord Balders and I got engaged, we had to plan our wedding in a bit of a hurry – we didn't see the need to hang about. As a non-traditionalist, I was jumping at the chance to find a funky dress, with one stipulation: it wasn't going to be a "wedding dress", and definitely not white.
I swooned over paper dresses, and I'd have made my own if I didn't have a dissertation to finish, and then got excited by a red leather geometrical dress I found on eBay… but when I shared my finds with my fiancé, it became clear that my creative tastes didn't exactly match with his traditional expectations.
It turned out that he had his heart set on a wedding that looked like a wedding, whereas that was the last thing that I wanted.
Having already had a wedding aged 21, I knew that bigger didn't equal better, and that the fanciness of your wedding has no positive impact on the lifespan of your marriage. However, my husband-to-be had ideas for his wedding, and as it was his first and only, I decided to compromise… a bit.
Compromising
I realised that I could be happy putting a twist on something a bit less outlandish, and I remembered that I actually had a wedding dress in my loft that I might be able to do something with as a last resort. Who has a wedding dress tucked away in their attic? It's not as strange as it seems, actually; I can explain.
Several years before, I was invited to a black tie ball. I was looking for a cocktail dress but didn't have a big budget, so I did the charity shop rounds and ended up in a shop where a friend of mine worked. We chatted about what I was looking for, and she had the idea that I should try on one of their newly donated wedding dresses.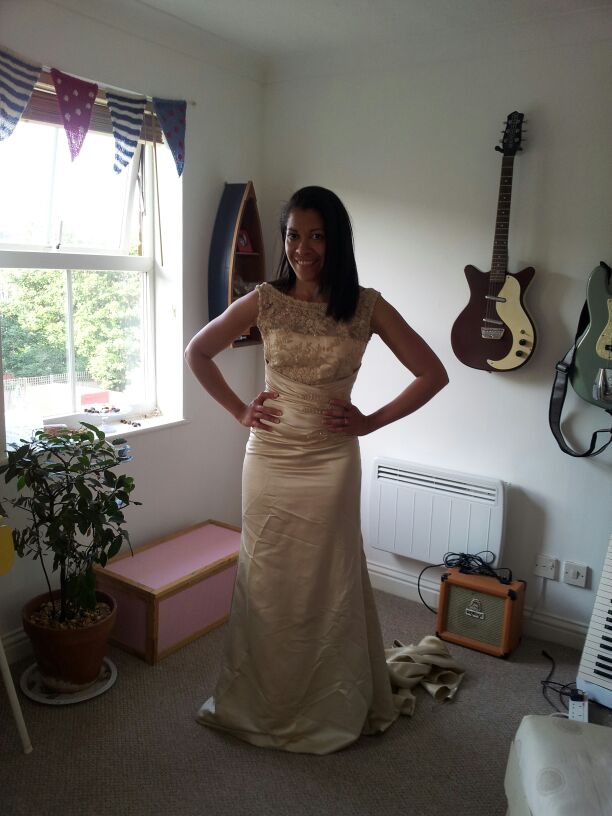 I thought it was a bit crazy, but my friend and another woman in the shop ganged up on me and practically cheered me into trying the dress on. It was gold and had a lovely beaded lace bodice, which I liked, but a full skirt and a bit of a train, which I didn't. I thought that I might be able to cut it to knee length and transform it, but I really wasn't sure that I could make it work. However, the seamstress in me immediately thought that I could get a whole lot of fabric in exchange for £10!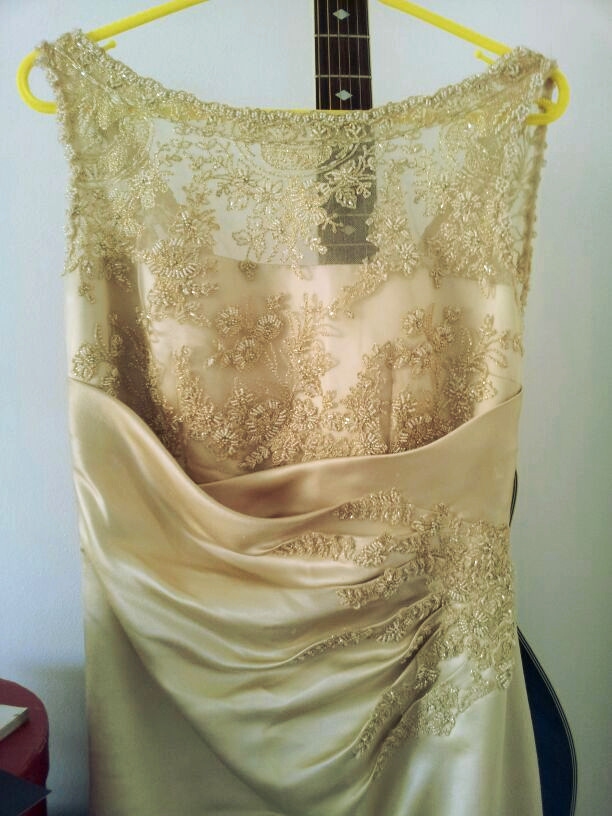 Fabric hoarding came in handy at last
Smelling a bargain, I bought the dress, but I ended up adding it to my fabric stash and forgetting about it.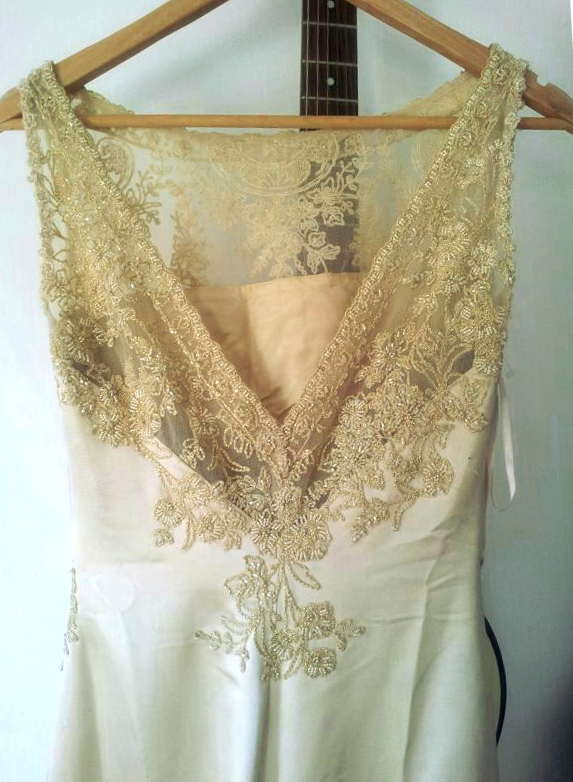 When I pulled it out of the loft after my dress hunt had stalled, I was very surprised to find that it was actually a Pronovias sample gown that seemed unworn. How it ended up in a charity shop for £10… well, stranger things have happened. I was amazed at how much potential it had, especially when I had bought it to chop up and then forgotten all about it… but there was lots to do it I was going to be truly happy with it.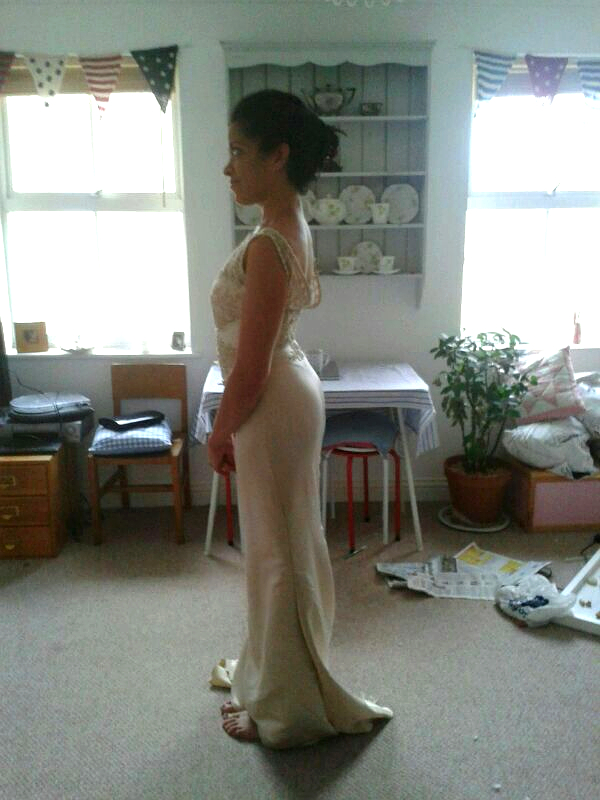 DIY alterations
I wouldn't have taken it on if I wasn't very confident with a sewing machine, but even so, it was a slightly bigger project than I had anticipated. I made all of the alterations entirely on my own, which meant endless rounds of fittings, pinning, removing, sewing and eyeing up in front of a mirror.
Leaving the lace top intact made life easier, and I did most of the work on the skirt, turning it from a full A-line to a slight fishtail.
An unexpected effect
I started off open-minded and practical about making the most of the dress I already had, but as I worked on it, I fell in love with it. The more I did to it, the more it became truly special to me. It didn't matter that it wasn't what I had pictured at the outset; it was entirely mine, and I loved it.



If you were to take on this type of project yourself, I'd suggest getting a friend to help with pinning, or to outsourcing the alterations to a pro. If that would wipe out the savings on your dress, then consider investing in a sewing guide to teach yourself to do your own alterations – but practise on something other than your wedding dress first!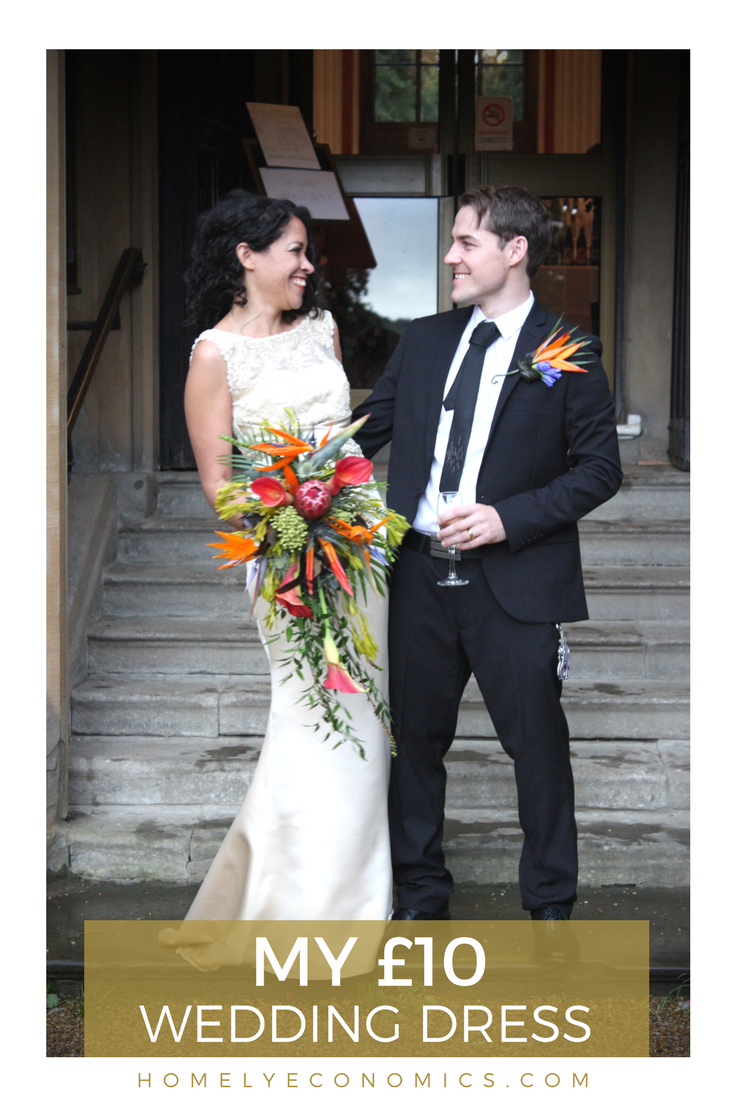 A dream dress?
Well, I'm not really the kind of person to care about a dream wedding dress, so of course I'd be over the moon with a major bargain. I went for wacky and ended up with traditional, but in the end I still married my man, and that's what mattered. If the dress had plunged us into debt then we'd have started our marriage with a frugal blogger's nightmare instead of a dream!
The shoes…
I picked up some sparkly gold Irregular Choice flats on eBay to avoid towering over Lord Balders. I still wear them from time to time!
Over to you…
I'm not the first to tackle altering a second-hand wedding dress – what experiences have you had with this kind of project? Or would you rather pay full price to know you bought your dress new?