This post contains affiliate links, marked by an *
Ah, time to reckon with everything I've spent in a year! I've put this off as long as I can but it has to happen. Ouch.
What goes into the spending diary?
All the things I've bought for my sole personal use. We decide on household items and shared interests, and they come out of the household budget.
Any cashback earned goes back into the household budget.
Monster Clay
When I first saw this stuff I was transfixed. YouTube really can make you pull your wallet out, can't it? It was definitely worth it though, as I can use this fantastic modelling clay over and over again, melting it and using it to cast and then sculpt.
Trying to do that with wax was frustrating and time consuming, so Monster Clay* was a great buy.
I bought this block for £30 with £7.99 postage.
Sculpture tools
These sculpture tools were pretty cheap, and of course I got them to use with my new Monster Clay. The pack of 18 tools contained silicone brushes and ball-ended tools*, so I got everything I wanted and more for £7.99. That's cheap.
Acetoxy cure silicone
I keep coming back to this stuff as it's one of the cheapest ways to make silicone moulds at home. Still, I'm having to buy quite a bit to make the moulds I want, so I was happy to find a local plumber's merchant that sells the right kind of silicone for mould making. I spent £7.99 on a few tubes that should last me a while.
Blu Tac
Humble Blu Tac* – well, it's an essential for stop motion animation, which was my obsession in December. I saw a pack for 89p in B&M Bargains one day and knew I'd regret it if I didn't pick it up.
Curved needles for bookbinding
At the end of December I fell into a deep hole – bookbinding tutorials. I managed to make quite a lot of books with the equipment I already have, but I wanted to get a curved needle to make coptic stitch binding easier.
I got a little pack of big needles, including two curved ones*, from The Range for £1.29. That'll set me up for a lot of bookbinding, so I'm really happy about that.
Total spend: £55.36.
Little stuff really adds up, but I guess the Monster Clay wasn't quite a little purchase. That's more than my monthly allowance in one go, but I enjoyed every penny!
Budget rollover to this month: £151.45.
I started December with £156.81 and my spending brought me down to £101.45 by the end of the month. On January 1st, we each got another £50 added to our budgets ( was hoping for a bit of a bonus for beginning the year, but couldn't get Ste to agree!) bringing me up to £151.45.
Where's the rest of it?
As usual, pop over to our grocery spending for details on what we've spent at the supermarket last month.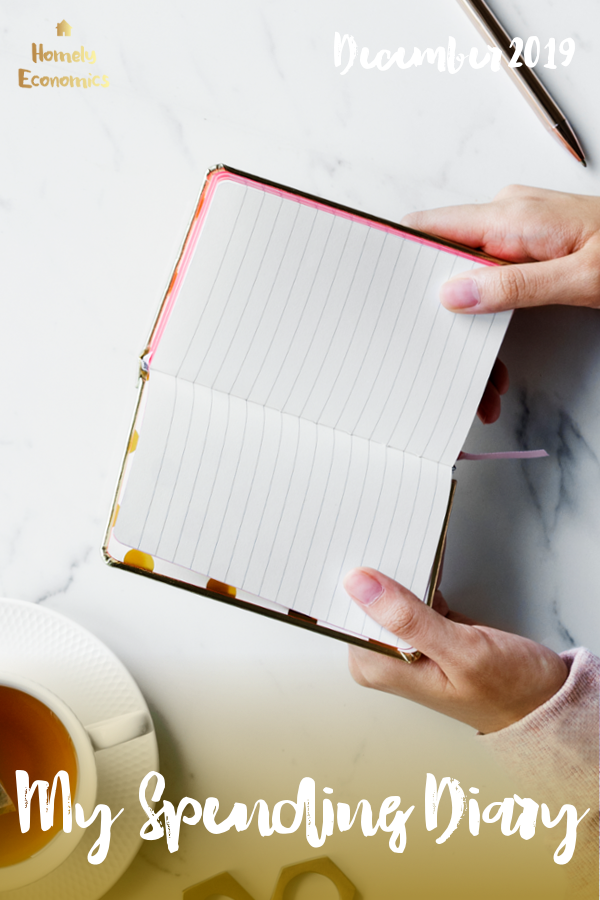 But wait – how much did I spend in 2019?
Ah, the real question!
My monthly budget of £50 would have given me £600 in total to spend on my hobbies and projects.
Over the course of the year, I spent £519.63. That's staggering to me… I know that a lot of the materials I did buy haven't been used up, so it's not as if that investment is totally gone, but still, it's a lot of money. Also, in November I did spend a part of my budget on home improvements, so not exactly thrown down on art supplies. But hey, it's the honest truth!
Some people spend on clothes, hair, food or holidays; I spend it on art materials. What do you think about my spending patterns? How do yours compare?