This post contains affiliate links, marked by *
A Star Wars bedroom makeover
Here are some pictures of our son's Star Wars themed bedroom, which we finished to coincide with the release of Star Wars: The Force Awakens.
Yes, I say finished, but it's only really finished-ish… there are upcycling projects planned for his hand-me-down furniture and a few jobs to do, but the bulk of it got done in time for us to have a mega Star Wars dvd marathon and present day.
Yes, we went full geek!
Here are some 'before' pictures:
And boy, was that carpet minging.
Bad, bad memory – but if you want to see more before and after pictures from that house, check out our entire DIY home makeover.
Here are some after the Star Wars bedroom makeover:
Bed & Star Wars Stormtrooper bedding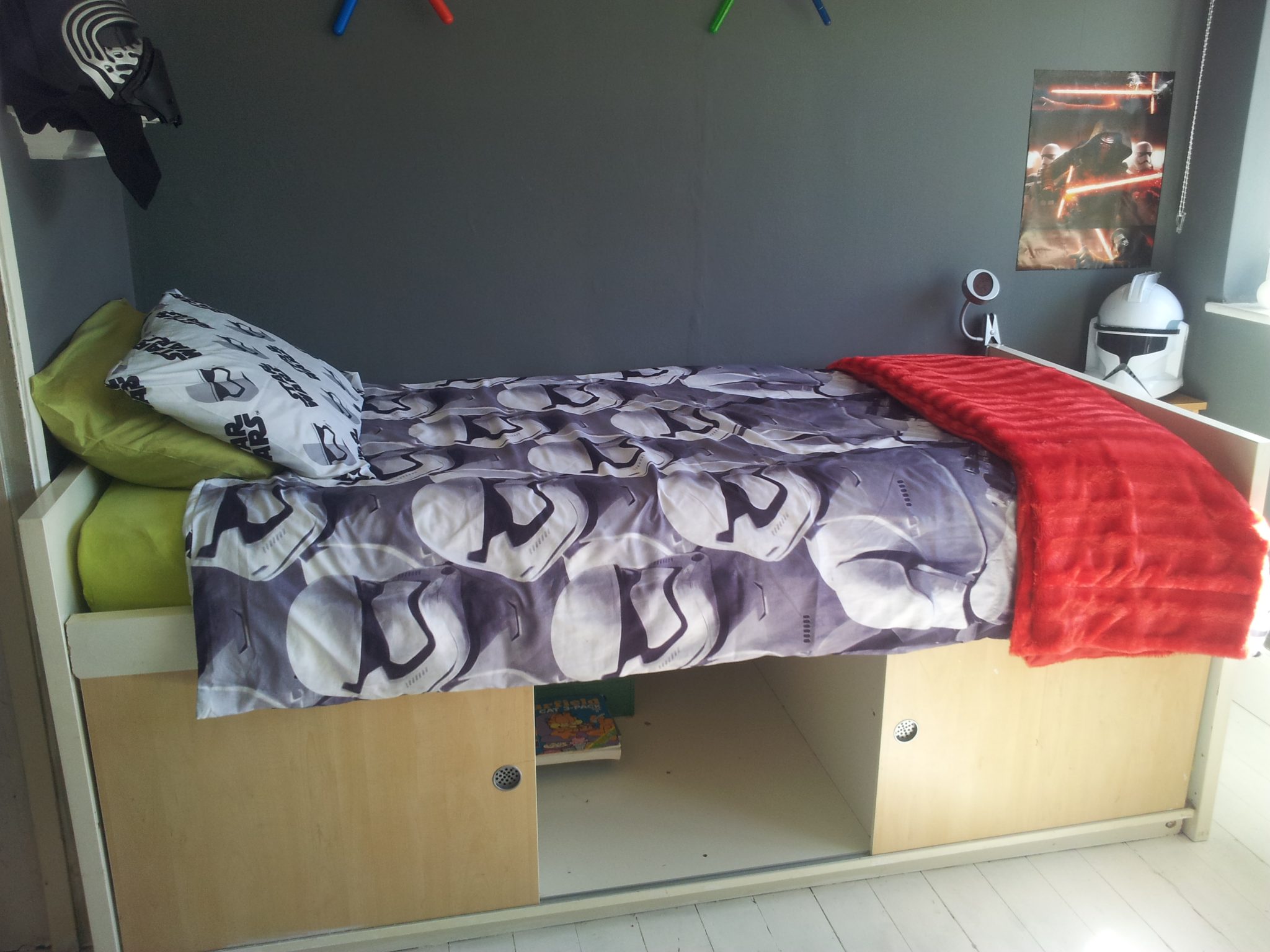 We kept the cabin bed that I'd bought second-hand from eBay about 6 years ago. New bedding had to do!
I did want to replace his bed, but our budget is more make do and mend, so I mended. I bought this many years ago on eBay, second-hand, and I've had a love-hate relationship with it since then; it's useful, but it's a pain to put together and it's ridiculously heavy.
The bedding sets* were everywhere in 2016 – I think they still are.
Lighting
Our idea was to make it look like a spaceship interior – but not too far, as it was meant to last through the teenage years.
The lampshade is from B&Q* and was only £14, and Little Balders chose it himself. Unfortunately it now has dings from a few furious lightsaber battles! Well, I guess it adds to the vibe.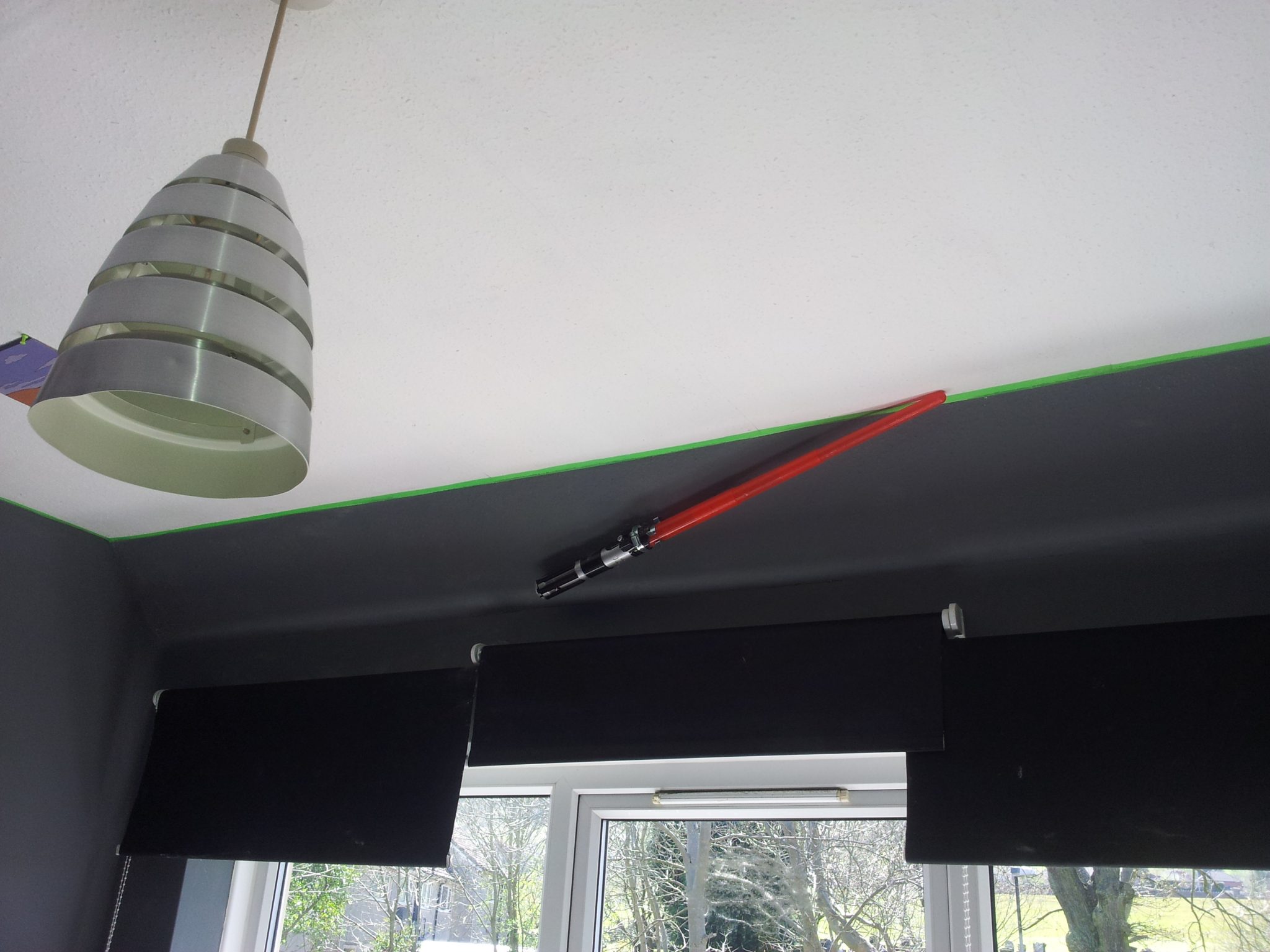 Window blinds
I struggled to figure out how to make or buy blinds for this huge window without spending a fortune. We ended up using three smaller ones overlapped!
Ceiling & walls
The ceiling was covered in woodchip paper (urgh) and we just couldn't deal with that on our budget, as well as keep our sanity. I bought some green washi tape* to run all around the edge of the ceiling and walls for a luminous effect – it works really well to conceal the edges and give a lift of colour!
We didn't go for expensive hanging options for the posters – they can be easily replaced when Little Balders gets tired of them.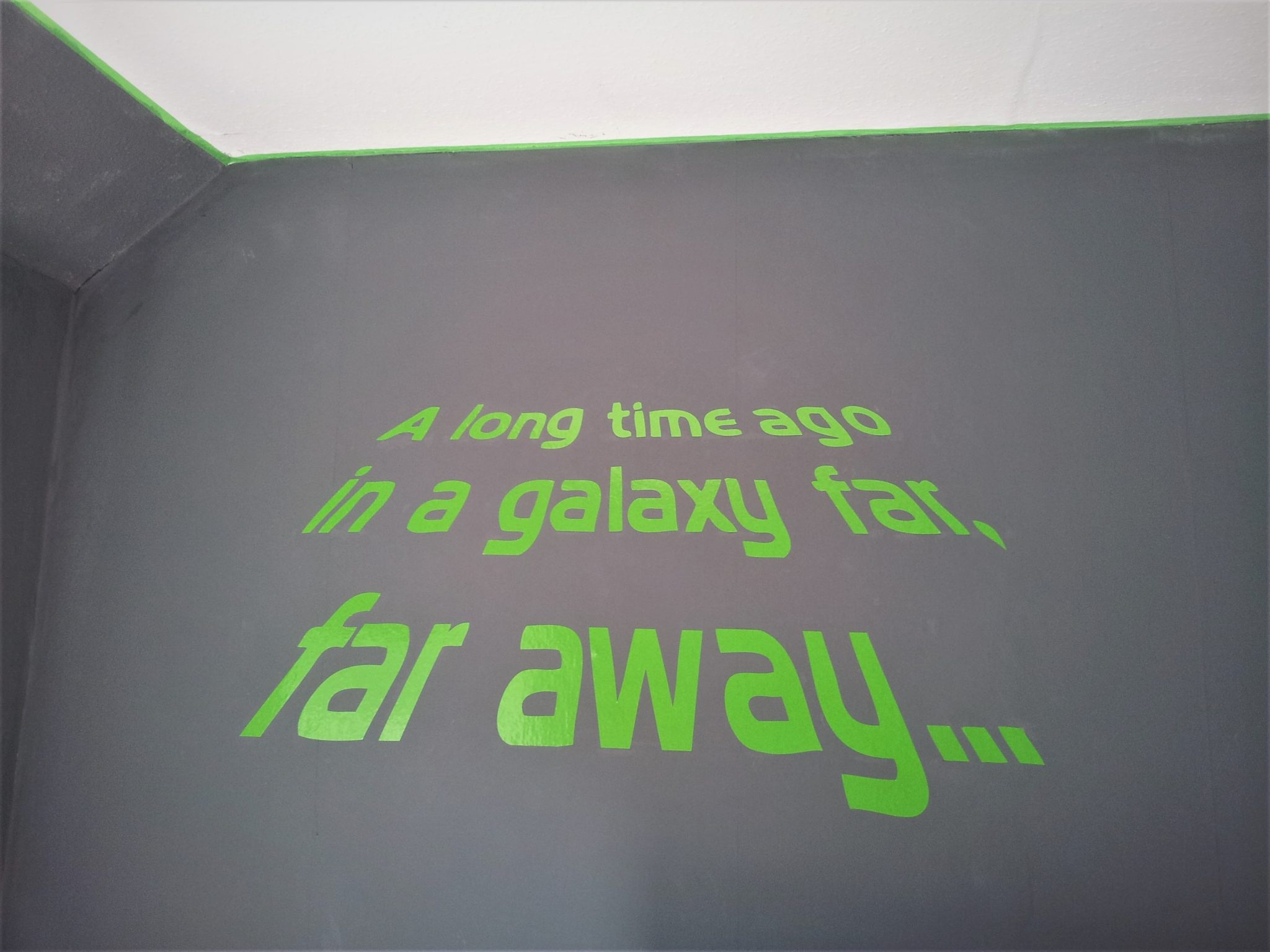 Putting up this personalised wall sticker* was a pain (use a spirit level, folks) but so worth it!
Spaceship Tromp L'oeil Doors
We'd inherited a house full of downright horrid hollow doors. We thought that we'd save some money and keep the Star Wars theme going by adapting them to look like spaceship airlock doors. I used wallpaper to create a paintable surface and emulsion to paint them.
It's been a nightmare trying to get a decent picture of the entire door! Our landing's too small. But if you've got dodgy doors and can't afford to splash out on new ones, why not try doing something weird with them?
In the end, it was the amount of thought that went into decorating the room that Little Balders appreciated most. We like to pile on to his bed to watch dvds – it's the coolest room in the house, after all.
Pin for later!