An interactive Present Day.
As a family, we have a Present Day for our son once a year.   
The advantage of a Present Day as opposed to a big, commercialised holiday for giving gifts is that you can apply whatever theme you like, and have it whenever you like. It feels more special as it's voluntary, and not something you have to do on the same day each year.
Our previous Present Day – Star Wars
Our first big present day coincided with the release of the first Star Wars: The Force Awakens, and with a household made up of two Star Wars nuts and one nut (that's me), we knew what the theme would be.
We spent ages scouring the internet and shops for Star Wars related tat and even longer wrapping it up – and do you know what? We didn't regret a penny of it, and we enjoyed the wrapping as much as Little Balders enjoyed his presents.
In fact, we enjoyed wrapping presents so much and imagining his excitement that we got addicted to it, and started stuff just to have something else to wrap! We loved watching his reaction to seeing a mountain of presents just for him, and as I've always felt like the less well-off parent, the one watching the pennies and coming up with cheap fun, I genuinely enjoyed giving him a treat.
Time to change things
But as time went by, we thought we could do better than just dump a load of presents on the lad again. We thought he might have been a bit embarrassed at seeing so many gifts for him, and having to open them in front of others. He's the kind of kid who would rather do things with us than receive things from us, so we changed our approach.
This Present Day, he'd have to work for his prizes – completing quests to find his treasure!
Now, we knew that Little Balders, who is not all that little at all any more, was growing out of costumes and role playing, but he still loved the adventure narrative. So this time, we set him some challenges to complete in order to win his rewards, and styled it after a medieval fantasy.
Everyone loves dressing up!
He woke up to find us in character, complete with handmade fleece cloaks and homemade spears and axes. Then he received his paper scroll instructing him to find and feed the vicious beast, previously known as the cat. This quest was to set him up with the rules of the day. Once the vicious beast was fed, he received his first present – a knight's tabard with his crest on the front.
That one took me more than a day to sew and applique whilst he was at school!
As well as that, he was given a couple of plastic cutlasses from Poundland to stick in his belt. A smash hit, much to my surprise.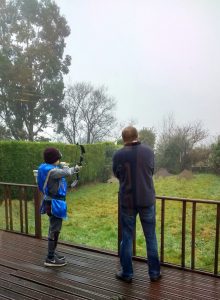 As Little Balders is keen on archery, we'd set up some cardboard cutouts of pigs in the garden, and gave him another scroll – this one instructing him to shoot the pigs so that we could have a sausage and bacon breakfast. Thank goodness his archery skills helped us to get breakfast on quickly, as we were absolutely starving by this point.
Why are the cheap presents always the favourites?
We were tickled by the way that the cheapest toys were the most popular. The Dino Hunters bow would have been £14.99, but I'd bought an Argos collection code via
Zeek
, and thanks to a promo code I got it for £4.99. I mentioned the pirate cutlasses from Poundland… I mean, £2? Definitely got our money's worth there.
By far, his favourite present was the Air Storm 
Dino Hunters Long Bow
. I confess, I didn't think that he'd like it much, as I was sure he'd turn his nose up at a toy version of a bow. Lord Balders said, "trust me".
He was right; the next day we couldn't move through the house without the suction cup arrow whizzing past our heads to stick loudly on to a wall. Oh, and he spent the whole of the weekend in his cloak, which was made from less than a metre of fleece (at £2 per metre) and a button I'd bought sometime around 2008.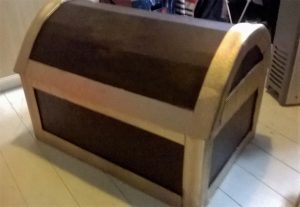 Saving money but putting in the time
Because of my
Zeek review post
I received a promo credit that I used at Toys R Us, which meant that I effectively got the most pricey toys for free, but we sure paid for this event with our time.
We spent months planning it, constructing cardboard treasure chests, making costumes and writing quests. We must have spent as much on glue and paint as on gifts! But hey, where else can you get a custom-made treasure chest? It was tiring, but it was a brilliant day that we'll remember forever.
Our family tradition
Will we do it again next year? Yes and no. We've decided that dressing up in ridiculous costumes as a family is the way to spend your day, but we won't stage such elaborate surprises. Making the props and outfits all together as a whole family is a much better idea.
Make your own present day treasure hunt
If you want to have your own present day with a quest and reward theme, think about the ages and abilities of your children. Choose a theme that fits their favourite game, characters or hobbies.
Start off small and get more ambitious as the day goes on, and if your child is easily embarrassed, then make a fool of yourself first. That's what we did!