The last few weeks haven't felt full of particularly frugal activities; the heating's on and we've enjoyed having a few friends over for lunch, so we're definitely not huddled in the dark on our own counting our pennies!
It's been lovely to have people around and we're definitely going to do more of it as autumn goes on and winter comes around. Here's what we've been up to this fortnight:
Earning Curve cash at Amazon and Tesco
I've chosen Tesco and Amazon as two of my cashback retailers, so I get Curve cash when I use my card there, and I make sure it's the only card I use for those stores. It's not easy finding cashback at Amazon as the offers seem to come and go, so 1% cashback at Amazon is a pretty fantastic deal.
I'm up to £3.20 in Curve cash right now and it would be higher if I hadn't been using some of it!
Spending my Curve cash
I tend to let my Curve cash build up until I can use it for buying something at the supermarket, usually something on offer in one of my cashback apps. It just seems like a double freebie: getting cash back for something I've bought with cashback!
Anyway, you can tell I love it. This time I used it in store at Tesco as well as at Amazon – you'll have to wait to see what I bought there though.
Get your own Curve card here with £5 free.
Withdrawing my Shopmium cashback to Monzo
This is an interesting one – I've decided to use my Monzo account solely for my grocery cashback.
Is there any immediate monetary benefit to this? Well, not exactly. I can put money aside in a savings account there, but the reason I wanted to separate it out like this is to see whether having the accumulated cashback in a clearly visible location might have any effect on our spending habits, so in effect it's a psychological experiment!
If the amount builds up enough (and it will, as I've received £90.98 from Shopmium alone since starting to use it this year), maybe we'll start using that account for our grocery shopping… I don't know, let's see.
Reusing an old blind in our utility room
Way back in 2015 I wrote a silly post about the arrival of our beloved Vader, and in that post you can see a picture of him plopped on top of a Roman blind that I was making.
The blind was huge, made to fit our old dining room window, and we brought it with us when we moved house but never had anywhere to put it. Well, after a quick hunt for something to cover one side of the single-glazed panes in our utility room, guess what was just the right width?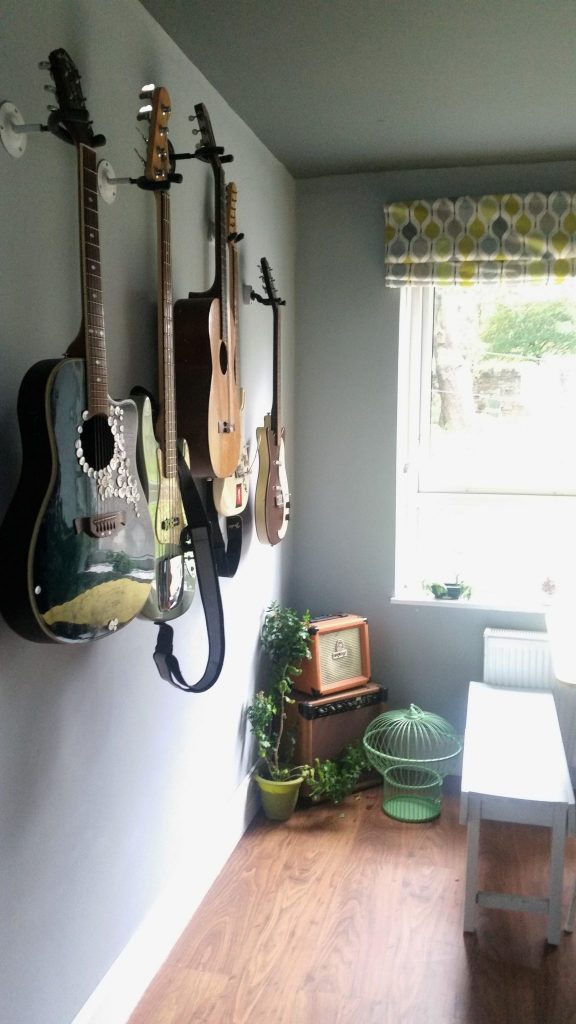 I love finding a new home for things, as I have a hard time throwing things out when I've invested time and money into making them. Also, it's one small step towards making the house warmer for winter.
Half term fun for big kids
It's hard to entertain kids during a half-term holiday, especially on the cheap. I tend to think that it's easier when your children are little, since they're pretty much bewildered by the entire world to start with, and everything looks like an adventure!
With great big teenagers who are too cool for everything, it's a bit harder. We had a great success with inviting some of our teen's friends and their parents over, and setting up some activities in the garden as well as pizza and snacks.
The parents chatted, the kids recorded each other recreating memes, and everyone had a good time!
Over to you…
Any frugal fun this time around?
I'm linking up with Cass, Emma and Becky in this week's 'Five Frugal things I've done this week' linky.