Reflections on a year of frugal blogging:
December's a month for reflection – standing at the top of the year, you can look back at how far you've come and wonder at just how you got there so quickly. Then there's the sight of January looming, holding the prospect of doing it all over again, but with the extra mystery of the unknown added to the mix.
2017 was a very eventful year for me and my family. Homely Economics, my little blog baby, started to grow up! It was also the year that I started to join in with a regular "five frugal things" linky, which I love doing. Here's a reminder of how far we've come and what we've done this year.
January
In mid January I made a big decision: leave Blogger for WordPress. I was excited about the prospect but very reluctant to make the leap because it would mean spending some money on the blog, and I didn't know if I could reasonably justify it; I'm very practical in many ways and I just didn't know if I should make that investment, just in case it turned out to be an unprofitable move.
The post I wrote about the experience was the first I linked to the five frugal things linky, as I did the move myself, saving some money.
February
The first real five frugal things post I wrote was on February 20th – my highlight was using a Primark gift card worth £50 that we'd bought for £36 thanks to Zeek. The next week I got some Quidco cashback paid to me as an Amazon gift card.
March
Looking back at my post from the 10th of March, it's interesting because it's the one where I admit that we're changing the way we manage our money (changing from my iron grip!). It's also the one where I go for a fortnightly reckoning as my schedule was just way too tight! Those two weeks were great for saving money though, as I won £5 on Free Postcode Lottery and that's also the time that we bought our sofas.
My choice for March 17th was more difficult, but I'd go for bagging a free fiver from PayPal as my highlight.
The next week though, I knocked it out of the park with a £100 prepaid card as a bonus for switching our broadband!
April
Back to a fortnightly roundup, I think my pick for the 7th April was actually putting money on my Pockit card to be able to get all of the things we needed for our upcoming DIY projects and get 5% cashback as well.
I guess switching to every two weeks really suited me (I must have forgotten) – in my post from the 21st April I wrote about how I saved £351 on our car insurance in a few minutes. Wow! I actually did forget that!
The good thing about looking back at what's been accomplished through the lens of a regular life post is that it brings back all sorts of things I had misplaced in time. For example, the next week, on the 28th April I posted about finishing my Child Maintenance Planner!
May
I'm so glad I admitted to glueing up my son's school shoes in my post on May 12th – I wouldn't have believed that we could make a pair of shoes last as long as we did! Admittedly, the shoes were barely holding together, but I have evidence that we have wrung every last penny's worth out of those shoes!
The next week my highlight was getting a free domain and Weebly website for one year, but in a way was that frugal as it's only given me an extra job? Eh… yep, it was free and I'm still using it.
The last week in May saw us finally replace Little Balders' Stokke Tripp Trapp chair with an office chair bought on eBay. So much better for him, and dirt cheap too.
June
We got a big bag of hand-me-downs in the first week of June, which definitely came in handy. The next week we finally replaced the knackered school shoes and filled up a properly old-school loyalty card from Wynsors, and the week after that we were back into full-on DIY mode to finish the house, so my pick of the frugal things was naturally DIY related.
The penultimate week in the month surprised me by bringing in more money than I'd expected for a lone eBay listing I'd done. Yep, eBay was a stretch for me back then and it still is now.
So, even though after that I did mention one of my frugal fails in my list, I still had a win with getting cashback tracked via Quidco for our home insurance. You'll have to go on down to November to see how this pans out!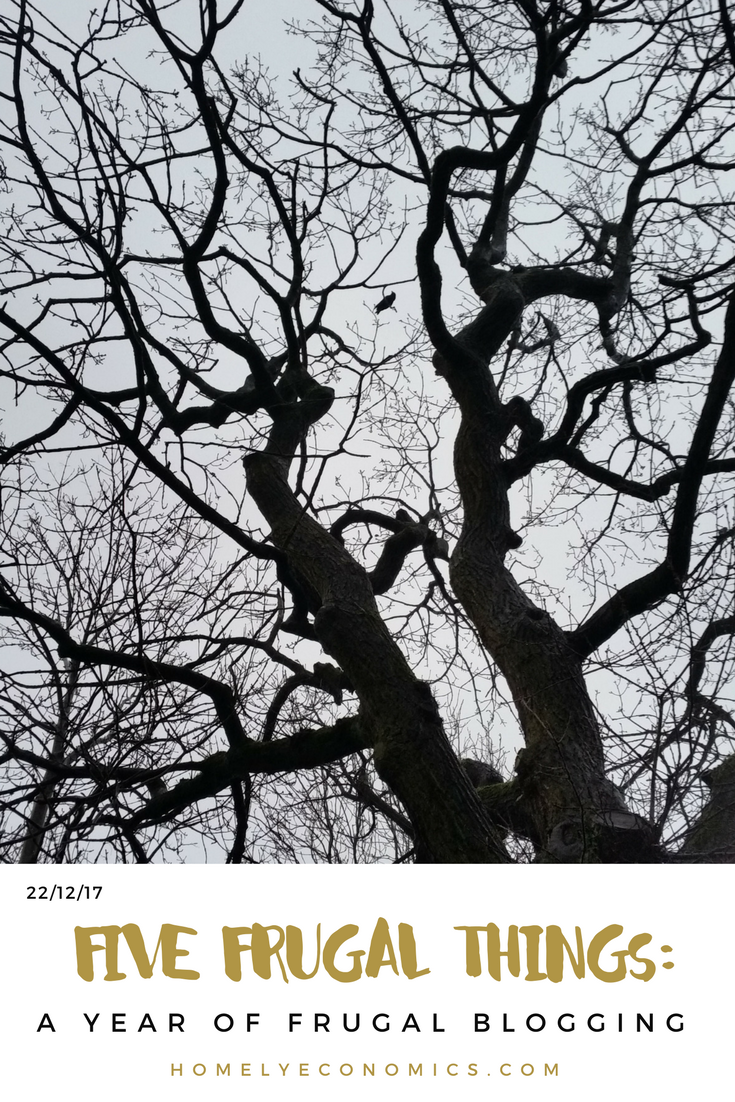 July
Things started off a bit bumpy in July when my laptop battery decided to die and for a moment I wasn't sure whether it was the battery or something bigger… but I found a silver lining that week with free software provided through my day job.
A week later that drama was sorted and we had just returned from a frugal camping holiday! I've loved looking back at this point in time, because that was the time our kittens were born. Awww…
But without a doubt, one of the biggest successes I've had to crow about was my 49p breakdown cover – an absolute essential if you're going to drive a banger.
Our B&Q coupons were the big winners on the 28th July, as we plodded on with the house renovations.
August
Looking back at the first week in August where our house went on the market, my favourite (cheap) thing was the fantastic day we had kayaking in our local park. I couldn't muster the energy to write a full post the next week, but I didn't want to let a week go by without writing an update about what was going on: you see, this was the week we put our house up for sale! Talk about exhausting.
After that, I reported that I'd taken part in a fantastic free course-building challenge and started creating my first course, a personal finance and professional practice primer for artists.
And just to show how varied my weeks can be, the next post's highlight was my frantic effort to save my wooden floor from kitten wee with hydrogen peroxide. Thank goodness I haven't had to go back to that since!
September
September kicked off with a rush to prep some artwork for an exhibition, but my most memorable entry from the first week was finally buying my new washing machine! It actually broke during the first week in May, but we managed with a kinda-fix for four months until it totally broke. That's perseverance, right? Or just insanity?
As well as cobbling that together for several months, the next week my husband pulled off a major feat by rescuing our car from the brink (whilst on the hard shoulder of the motorway). That kept us going, but really, I was quite ready to say goodbye to that thing. Husband, on the other hand, was not giving up without a fight…
Barely a week later I was pulling a pair of his trousers back from the brink thanks to my sewing machine. The trousers would have been a cheaper replacement than a car, but I guess "thrifty in little means thrifty in much".
My next post was the one where I made it official: I was going to write a post once every two weeks. Running three blogs, planning one more as well as a course was too much for a weekly commitment for the length of post I liked to write. I was pleased to be able to say in that one that we stopped ourselves getting overcharged just under £20 in Aldi through being vigilant with our receipts… phew!
October
For some reason, the first post I wrote in October ended up being almost entirely all about domestic appliances! We finally got that new washing machine, and then the darned thing looked as if it was done for. Yes, the new one that I waited almost five months for. Anyway, Mr Fix-It hubby worked his magic and was feeling mighty pleased with himself again.
Two weeks later, we'd been up to a variety of frugal things, but taking advantage of a load of free Etsy listings was my highlight. I find selling online to be a real pain, so getting a move on with it was a big deal for me.
November
This month, for the first time, I wrote about something frugal that my friends did – repainting their kitchen worktop. Such an impressive job! I'd definitely consider it for my own DIY repairs should I need to freshen up another kitchen.
The next post saw the last repair we'd ever make on our old banger – little did we know at the time that it had finally croaked! Well, we really, really pushed it with that car. Apart from that, I felt great about cancelling one of my very few subscriptions that I didn't think was delivering good value to me. Truthfully, I think I'll go back to it in the new year, but ruthless money saving meant it had to go.
December
That brings me to my last five frugal things post, two weeks ago. It was an eventful fortnight, but I think getting our cashback as Zeek credit was a highlight.
This week? The last fortnight has been a bit nuts – saving money has been a challenge!
Why? Everything seems to want to break down. Over the last year, apart from the washing machine and the car, the toaster exploded, the grill (the only part of our oven that ever worked since we moved in) went kaput, and my husband's window-cleaning machine dramatically sparked itself into oblivion. Bizarrely, the microwave oven seems to have fixed itself but it might change its mind, so let's not count that one.
The window-cleaning machine was saved by a new controller bought on eBay. I was ready to pay for a whole new trolley but this fix has done the job!
The slow cooker and new panini maker (bought on sale at Aldi or Lidl, I forget) have made up for the cooking vacuum left by the toaster and oven.
We got a few more free items from CheckoutSmart, which tipped us over the limit to get our second recent cashback payout!
As the new pair of school shoes reaches its end, it's time to replace them with another pair we bought around the same time for more formal events (same style). The problem is, they're much more rigid and not comfy. Husband has been wearing the new shoes a bit to break them in for Little Balders! Hoping it's worth it…
Fail – with the best intentions in the world, my husband broke the oven door when trying to take the elements out to replace them. Looks like it's time to buy a new oven!
So four things and a fail this time. It's been fascinating to see how much we've done this year and how things have changed. How has your money-saving year been?